Need to earn some money because you lost hours or even worse, lost your job? In the COVID-19 era, there are still ways to earn money by using game apps to win real money.
If you love playing games on your phone and you aren't getting paid for it then you may want to check out these mobile apps to win real money on iPhone and Android phones.
I did some research on sites and apps that allow you to get paid to play games online and found a few diamonds in the rough.
I did the heavy lifting for you and found the best games that pay real money. Today you'll learn which ones.
Best Game Apps to Win Real Money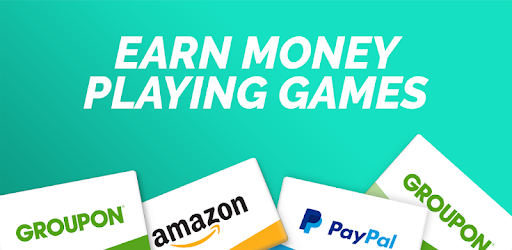 For those interested playing game apps to win real money — it is definitely possible for anyone to play games and earn money on iOS and Android phones.
Let's go through the top apps that pay you real money. Earn money by playing games on Android and iOS devices with these apps.
Here is a list of game apps to win real money in 2022
Disclosure: Please note that some of the links below are affiliate links and at no additional cost to you, I'll earn a commission. Know that I only recommend products and services I've personally used and stand behind.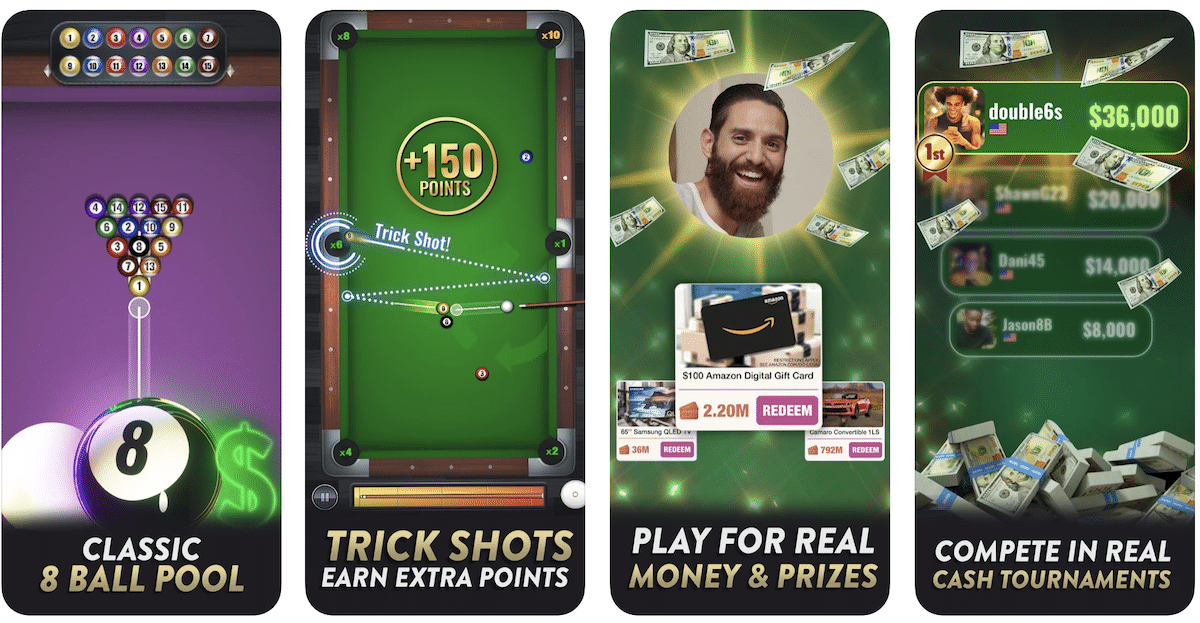 Pool Payday is a great way to win cash by playing 8 ball billiards on your phone. As you play pool, you earn cash. You can compete in one on one matches against other players, or try your hand at tournaments. You get paid by the game!
You can also just play for fun and it's pretty easy to pick up. There is a nice tutorial that takes you through how to play, and the controls are very intuitive.
Once you get good at it, you can challenge other players or tournaments which have varying degrees of difficulty. You can bet against other players on the outcome of a match before playing them too.
Ready to rack them up? You can get paid via PayPal or Apple Pay. If you're interested you can play a free game here.
Best if you want a fun way to earn
Pool Payday
Get paid to play pool against other people. You can start by practicing for free earning extra scores for speed, ball positioning, calling pockets, and trick shots. Once you're ready, you can play others in head to head for real money.
Pros:
Compete for 1-on-1 in live real-time games for fun, for profit, or both.
Cash prizes are redeemable via Paypal, Apple Pay, and more.
Play for money powered by Skillz in head-to-head competitions, leagues, and tournaments.
Cons:
All gamers must be 17 and older.

Not as fun as playing real pool.

You won't get rich playing this game.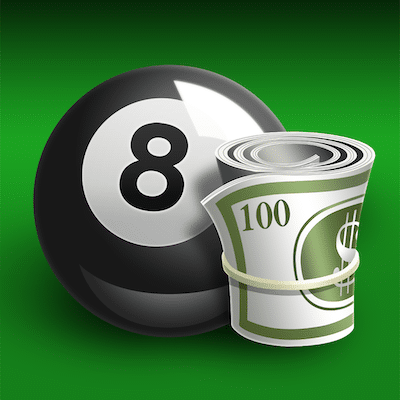 Note: Cash tournaments are not available in AZ, AR, CT, DE, FL, IN, LA, ME, MT, SC, SD and TN.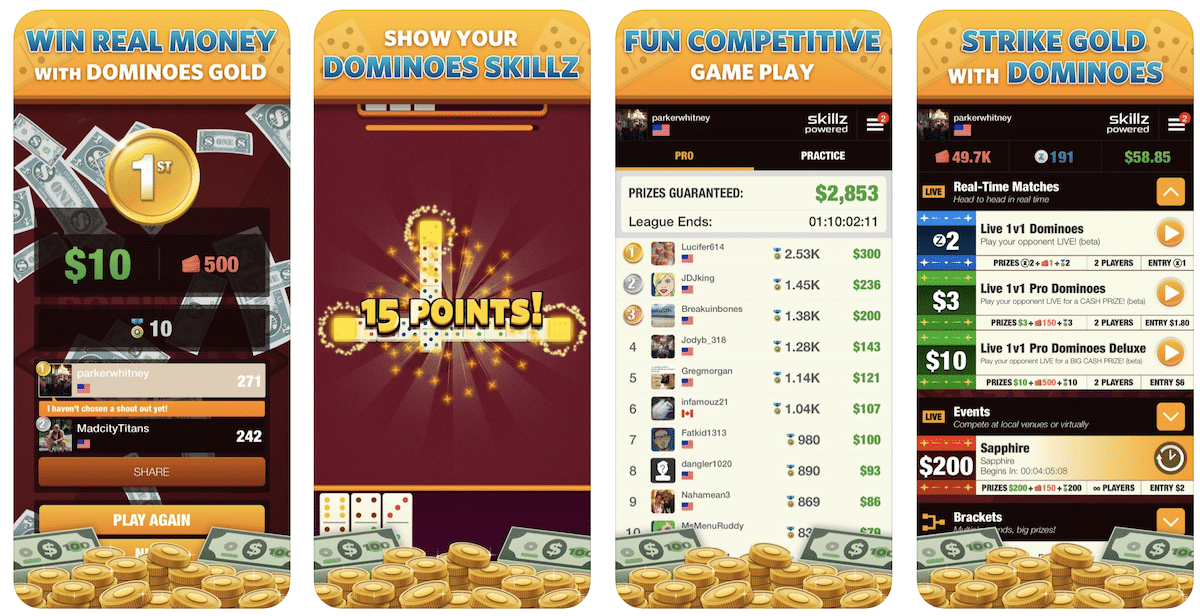 Dominoes Gold is like playing real dominos, only you can win real cash money.
This is a fun game that is quick, and pretty addictive. You'll compete to get the highest score against your opponent and compete in daily tournaments.
Just like Pool Payday, you can play for free or join a Pro League to win real money.
In Pro Leagues, you get to join the Skillz community and compete in domino tournaments for prizes.
Beat your opponents with the highest score before time runs out. Play the computer first in the classic domino game then compare your score to an opponent. Whoever has the highest score will win real money.
You can play $1, $5, $100 or even higher value games in real-time matches through this link.
Dominoes Gold
When you play, Dominoes Gold, you're playing the classic board game dominos to win real money! Challenge your opponent by playing identical games versus the computer. See who can defeat it by more. The winner earns real prizes!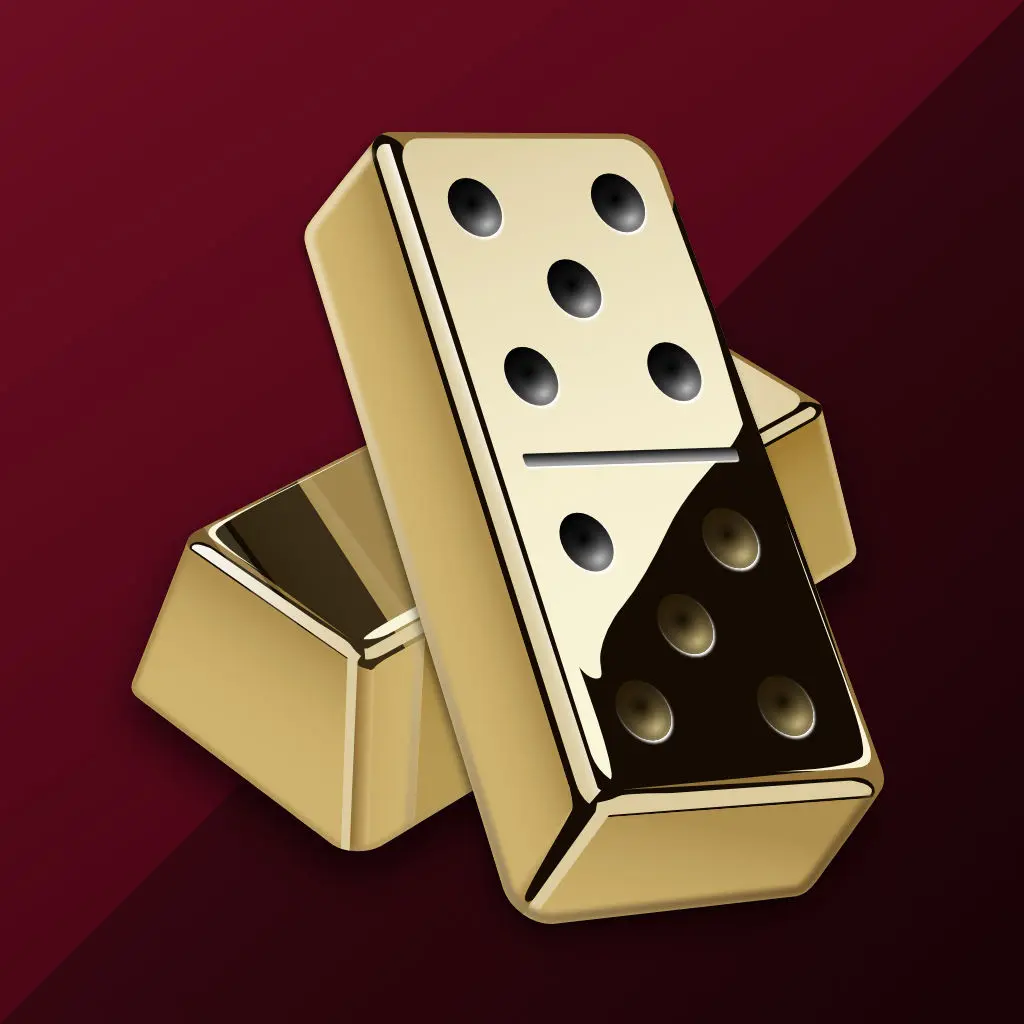 Note: Cash tournaments are not available in AZ, AR, CT, DE, FL, IN, LA, ME, MT, SC, SD and TN.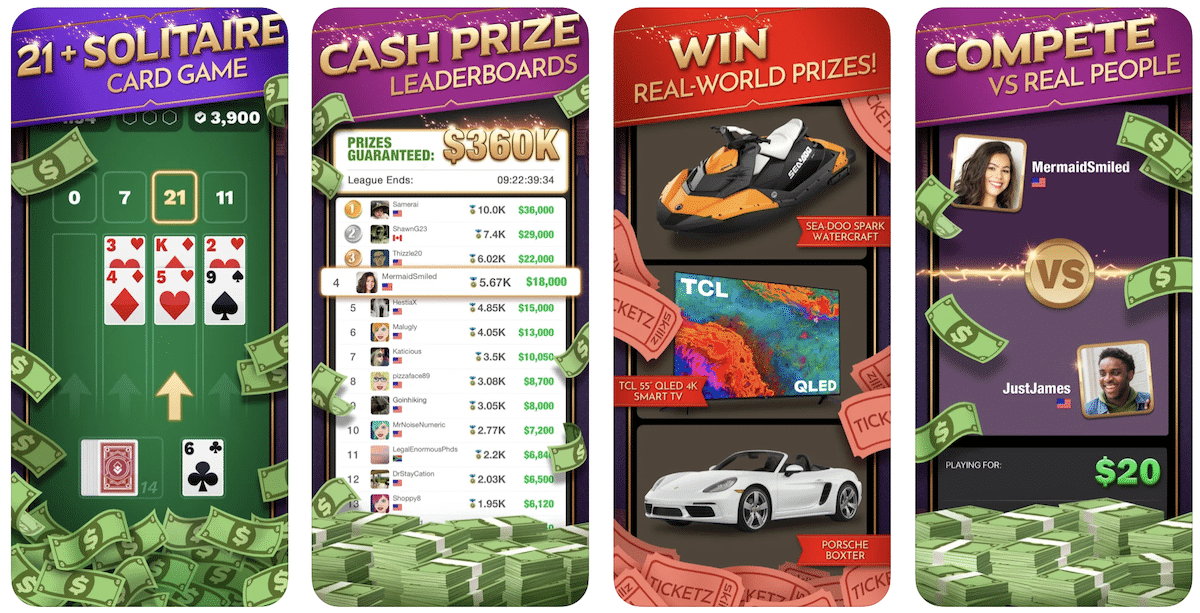 21 Blitz is a highly addictive game where you can win real money playing blackjack.
If you're looking to make money playing games, then you won't find an easier game than this.
If you don't know how to play blackjack, then you can easily learn in practice mode.
21 Blitz has a twist though, it's where blackjack meets solitaire. This fun game has head-to-head or multiplayer challenges where you can win money.
Plus, if you refer your friends to the game you can earn cash rewards.
You'll need to be over 18 years old to play though but anyone can download it for free.
21 Blitz
21 Blitz is a a mix of 21 and Solitaire. You can win real-world prizes like a brand new TV or Porsche. Compete against real people and it's always fair and easy to learn how to play.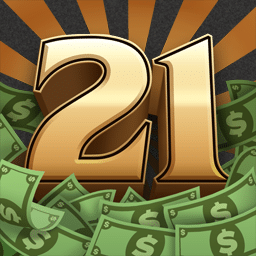 Note: Cash tournaments are not available in AZ, AR, CT, DE, FL, IN, LA, ME, MT, SC, SD and TN.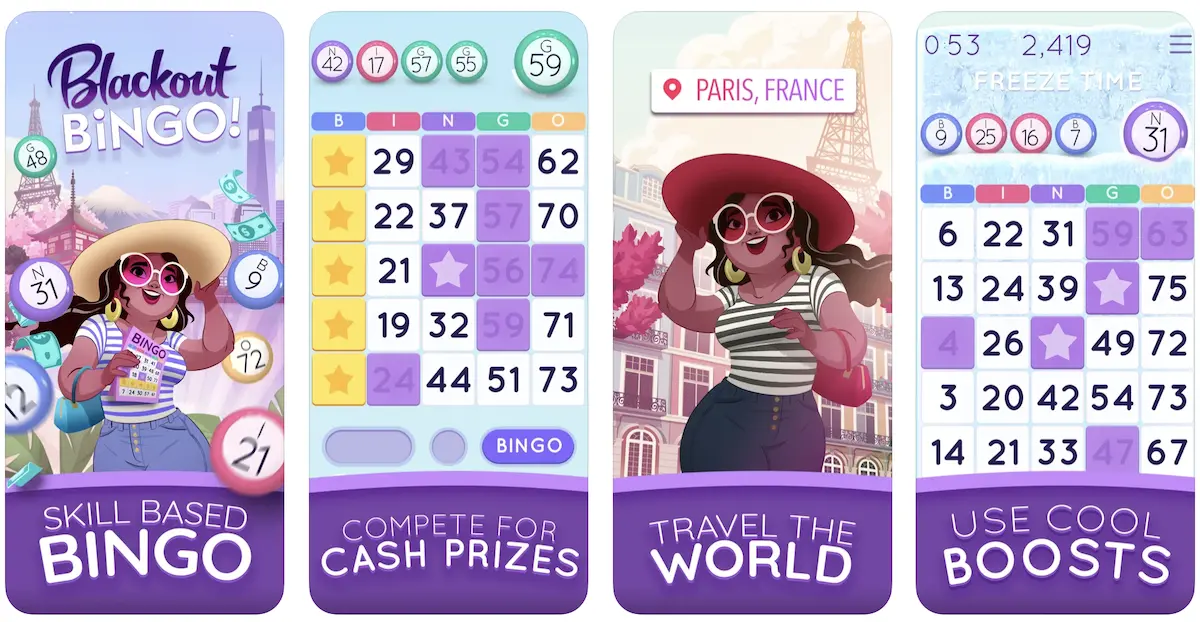 Over 5 Million players agree Blackout Bingo is the fresh, social competitive twist to the classic bingo game where you can win real-world rewards and cash prizes (where available)!
Join globetrotting heroine, Chelsea (the mascot of the game) and play in amazing and exotic places with this game app to win real money.
Historically, Bingo was a game of chance. If you were lucky enough to have the right card, you'd win.
Now with Blackout Bingo – you are in control! Everyone playing sees the same balls and cards. It takes concentration, speed, and strategy to become a bingo master. Do you have what it takes? The app has over 62.5K positive reviews in the App Store — it's legit.
Note: Available in the US, except AZ, AR, CT, DE, IN, LA, ME, MT, SC, SD, and TN.
Blackout Bingo
Blackout Bingo will pair you with one of thousands of other online players at your same skill level. You and your opponent will both get the same bingo board, so winning is totally skills-based. Then you can play head-to-head in large pools and live tournaments — some tournaments have even paid out prizes as big as $350,000.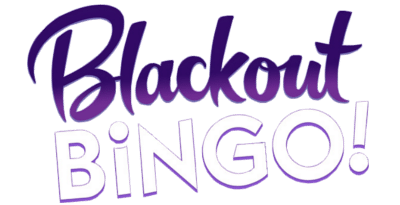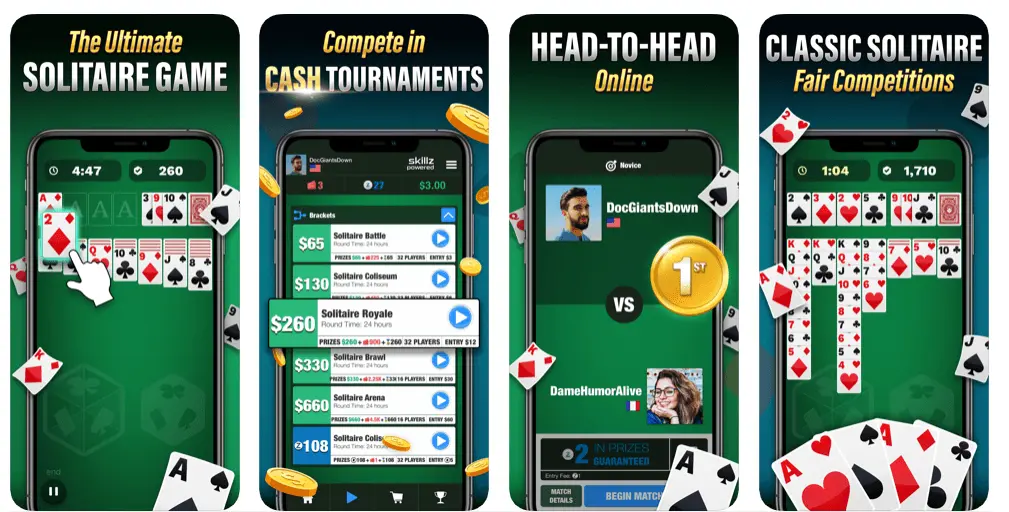 Solitaire Cube is an addicting game where you can play Solitaire on your phone and compete in cash tournaments. Solitaire Cube includes tournaments and head-to-head competitions with real cash prizes (where available).
It's available on for iOS, Android and Samsung devices. It's pretty easy to get started and the game will match you up with other players who have the same level of skills in real-time.
Cash outs are through PayPal and I had no issues withdrawing or depositing money. How to play? Stack cards into piles to sort them by their suit. Sound easy? It is!
Solitaire Cube
This free app lets you play the classic card game you already know and love, plus it matches you with players in your skill level, so you can go head-to-head in tournaments where you can win real money. Plus, the games are quick — just two to five minutes each, and you can play them anywhere.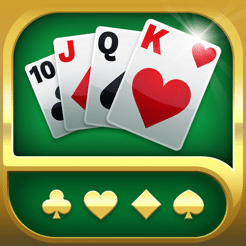 6. Mistplay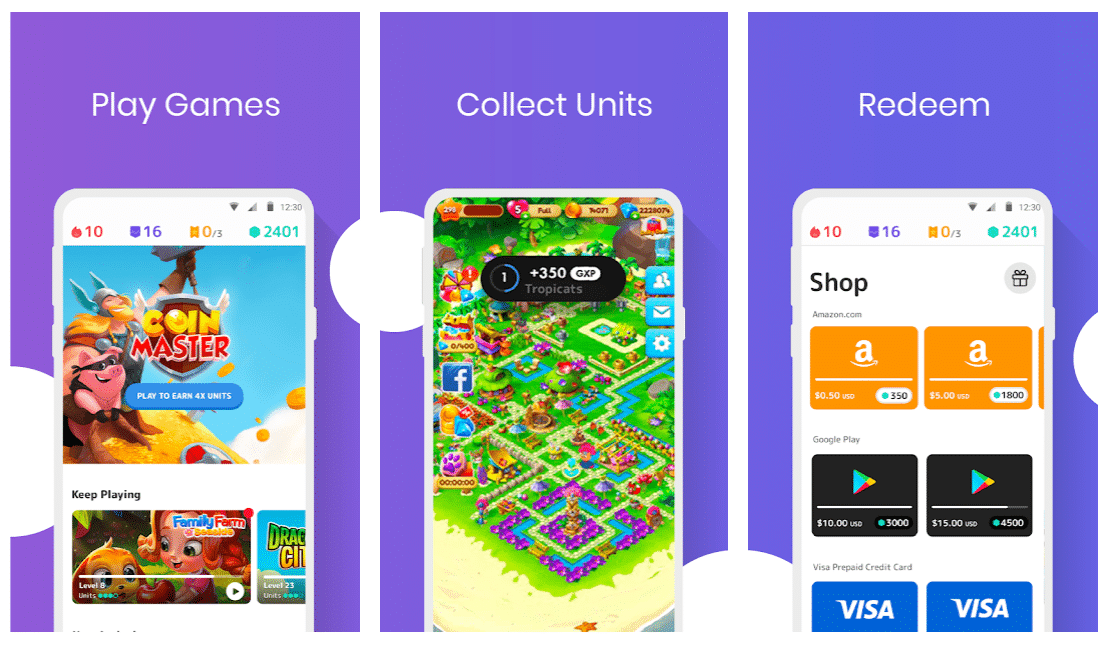 Mistplay provides you with an opportunity to earn money simply for playing new games on your Android device. This app is only on the Google Play store (sorry iPhone fans), and already has 124,098 positive reviews and a 4/5 rating.
A recent review boasts:
"Probably my favorite paying app for games. Payouts are given within a day or so once you redeem points. They even give half points if you already have a game installed."
The concept is pretty simple, you play new games that Mistplay has in your 'mixlist' and the more you play, the more you earn. The minimum payout amount is 1,500 Mistplay points, which amounts to a $5 gift card. You're earning points that you can redeem for awesome rewards like Amazon gift cards, Sephora gift cards, or Visa gift cards.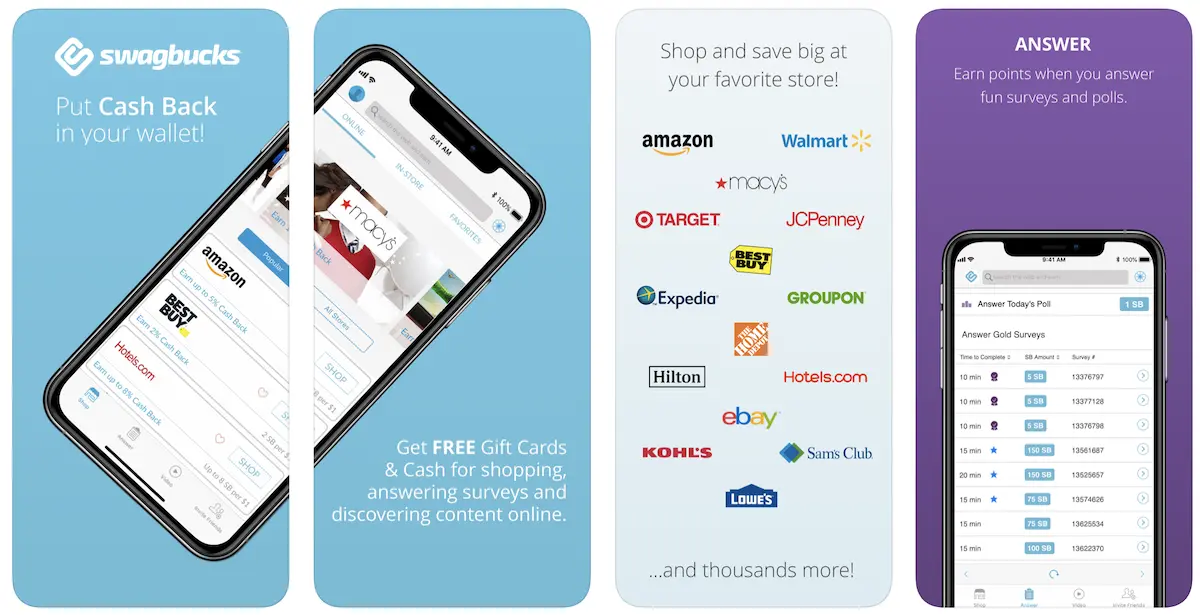 Swagbucks is another great money app to earn some easy cash for just playing games in your free time. Unlike Boodle, this company has been around for 12 years and has paid out more than $150 million to its members.
You can also earn money (via Paypal) for everyday activities like shopping, watching videos and searching the web. If you're interested you get started with a $10 sign up bonus.
Bottom line: It's one of the best apps that pays you money for playing games that actually works and pays directly to your PayPal account.
Swagbucks
Swagbucks is a legit beer money site where you can make money taking surveys, watching videos, playing games, and more.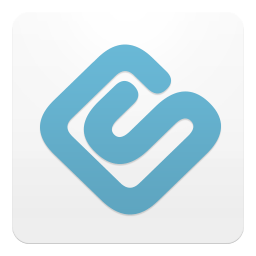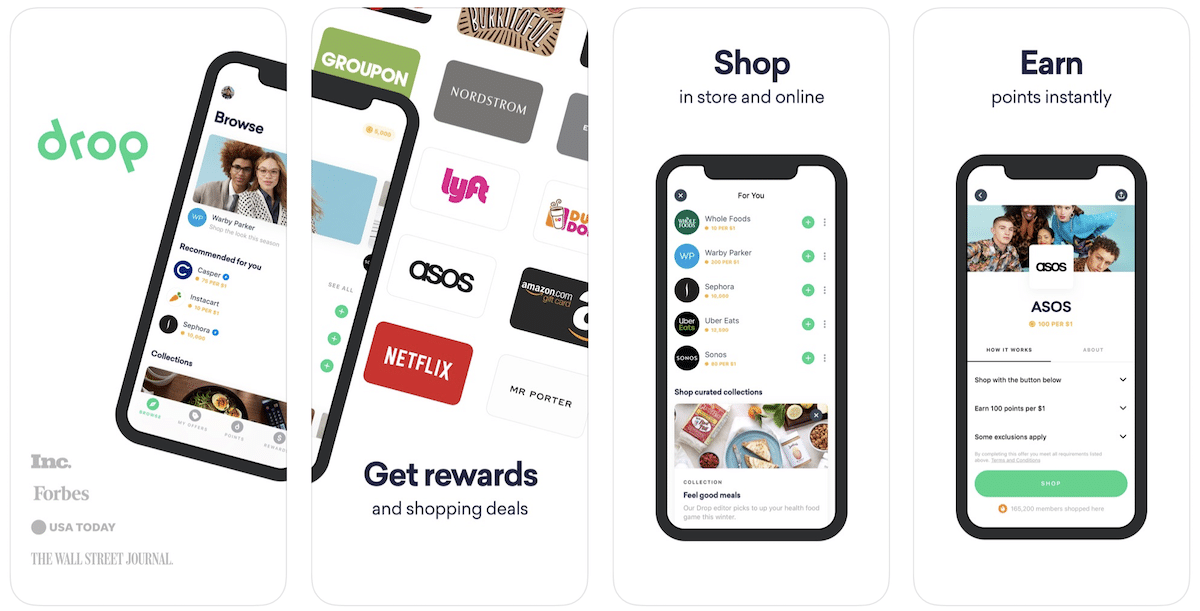 Drop offers you free gift cards for playing arcade games within its list of apps to play.  You can play casino games or game shows and the games list changes constantly.
Drop helps you find games on the iTunes App Store or Google Play, and each game has a task. When your required game task is complete, you'll get points that you can cash out for free gift cards. Cash in your points for free gift cards to popular stores like: Amazon, Visa, Xbox, Playstation Starbucks, iTunes and more.
The great thing about Drop is that it has so many ways to earn — you can earn by playing games, cash back offers, taking surveys, and other rewards.
Drop
Drop is legit, but you won't get rich from it. Cashback or rewards are merely a way to earn a little bit back on purchases you already make. Whether it's helping you beef up your Amazon balance or pay for your weekly latte, Drop is a passive way to earn some fun money.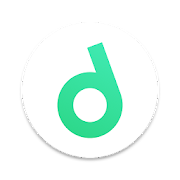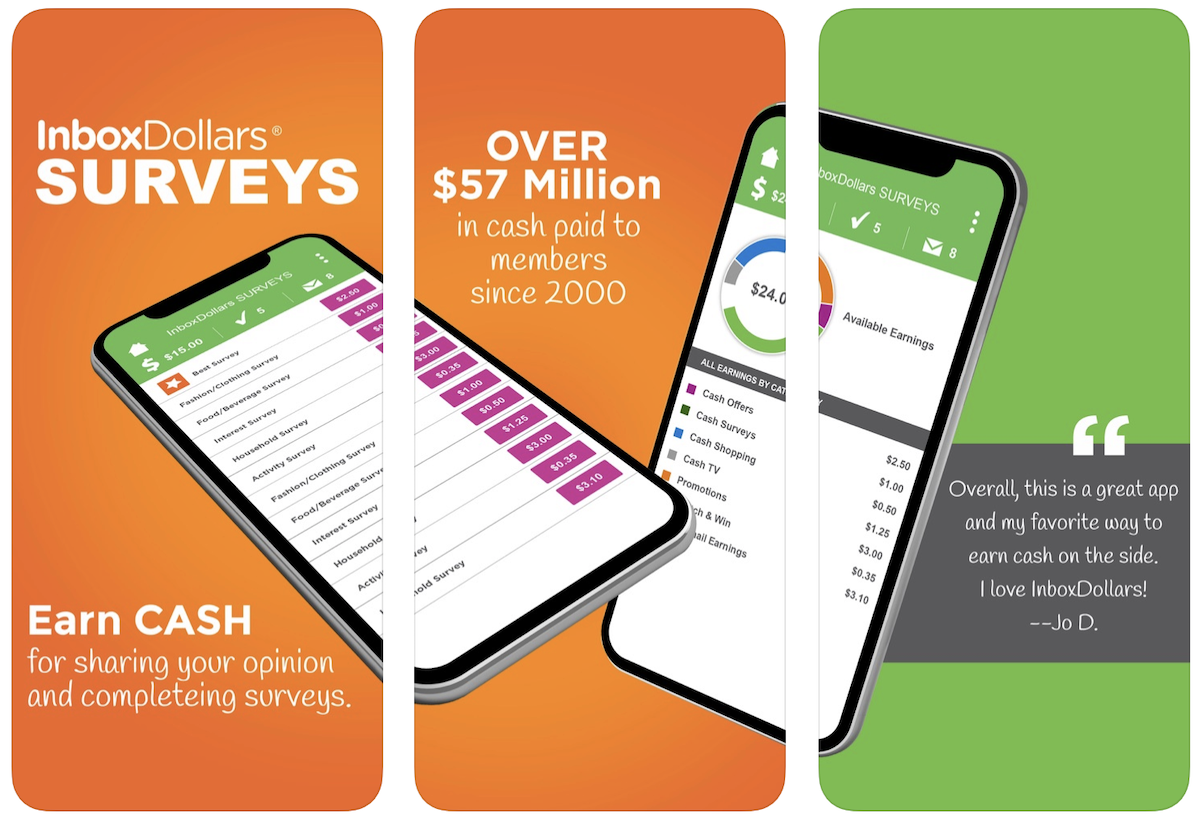 The next thing you can do is sign up for InboxDollars which is another game app to win money. It's similar to the other win cash apps on this list but provides you with other ways to earn like taking surveys, reading emails, and even trying new products.
If you sign up before the end of this month, they also give you a $5 free bonus just to give it a try.
By spending just 5-10 minutes per day playing games (either on your lunch break or during TV commercial breaks) you can earn and earn an extra $50/month.
More people should be doing using this app to play games to earn real money.
InboxDollars
InboxDollars is a legitimate way to make extra money online. It's been around for 20 years, and the company says it's paid its members more than $59 million since 2000.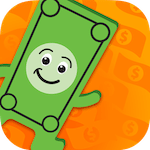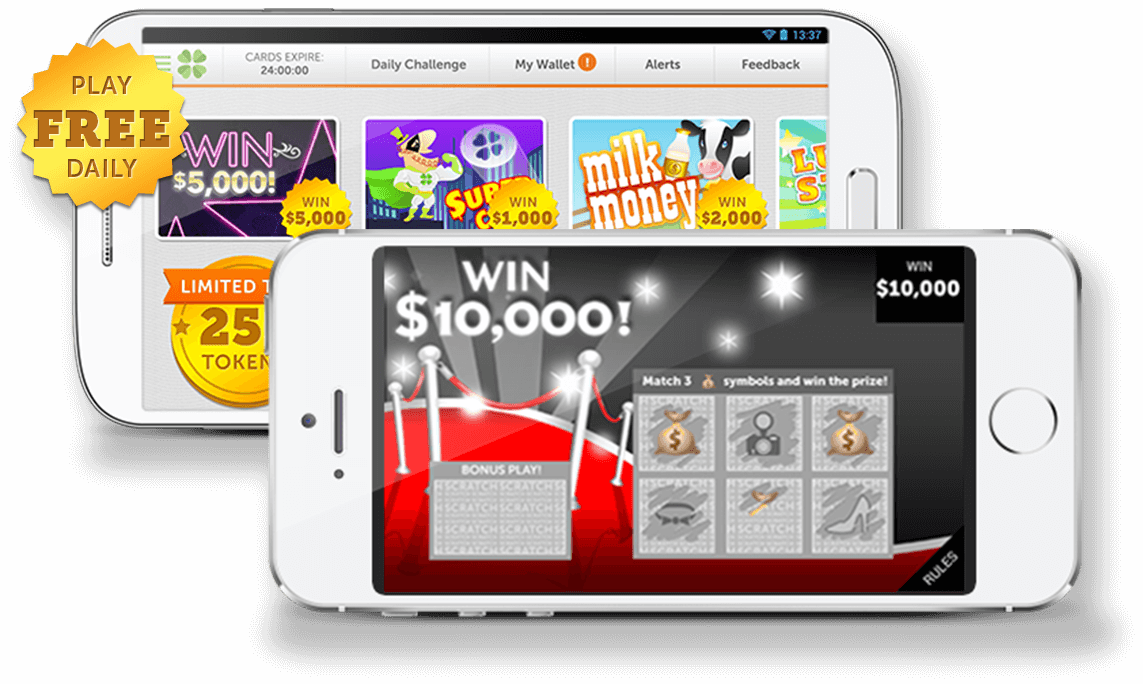 Lucktastic is a free and fun way to win real cash and prizes and earn rewards. You can download the app and play fun scratch-offs that offer instant rewards. For the instant win scratch cards, the odds of winning depend upon the number of people playing the cards.
For contests, the odds of winning depend upon the number of entries received. All entries have the same chance of winning and the winner will not be announced until he/she has confirmed their information.
Overall, it's a legitimate app with 334,002+ positive reviews in the Google Play store with a 4/5 star rating. The minimum cash out is $2.00 and 30,000 tokens gets you a $5 Amazon gift card. This is one of the best game apps to win real money that really pays out.
Lucktastic
Lucktastic offers the same daily scratch-off cards that you find at your local convenience store — but here you can play for free and win real money.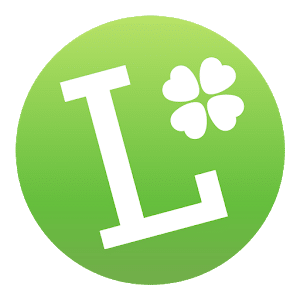 11. Swagbucks Live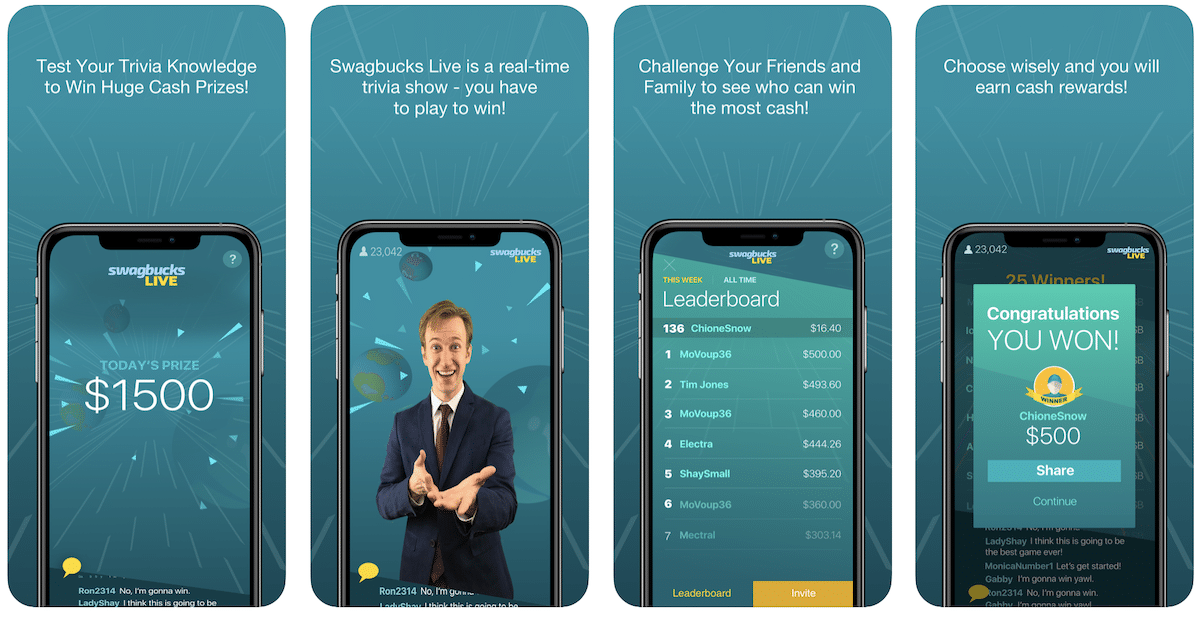 Swagbucks Live offers another opportunity for you to make money through online live trivia on your mobile device.
What is the most popular drink in the world that does not contain alcohol? What the official national anthem of the United States of America? What is the Capital of Australia?
If you answered coffee, the star-spangled banner, and Canberra, then you may want to look into this new trivia app that pays you huge cash prizes for your smarts.
The minimum cash out for Swagbucks Live is $3.00 which you can cash out for cash through PayPal, Amazon gift cards, Target gift cards, iTunes gift cards or other popular stores.
Today's prize is worth over $1,000. I'll be playing, will you?
Swagbucks LIVE
Swagbucks LIVE is the interactive live stream app where you can win $1000s every week. Download now to enjoy daily 10-question IQ trivia games with $1000s at stake plus bonus SB for everyone.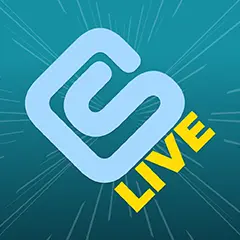 12. Boodle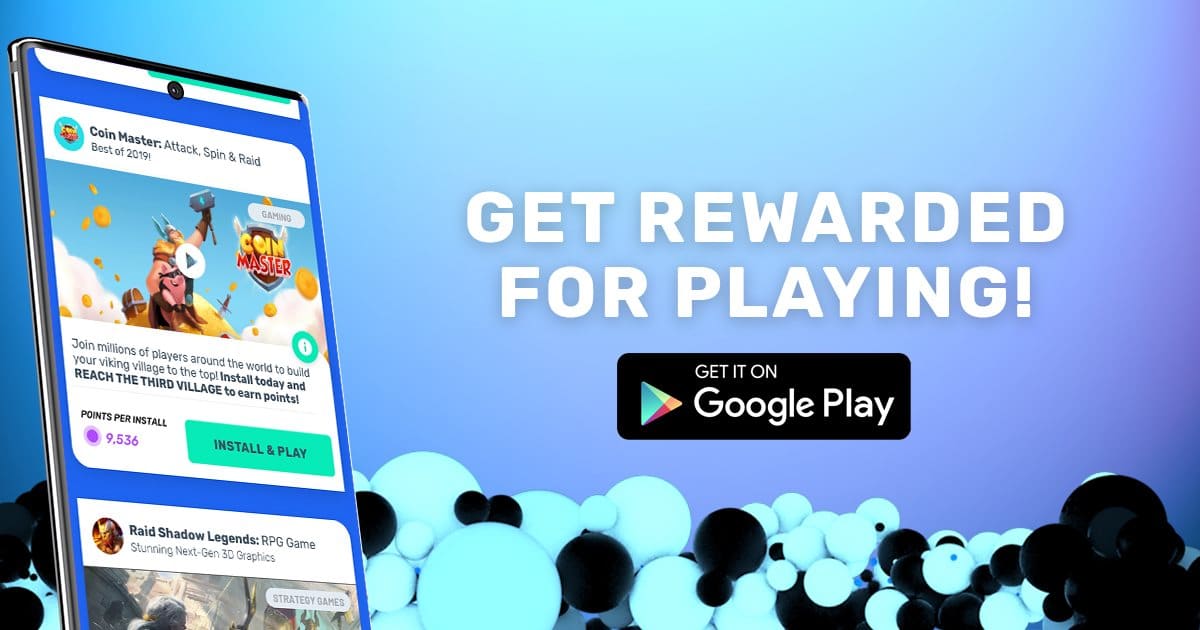 One of the latest apps on the market that allows you to win real rewards for playing games is Boodle.
Boodle (android only) is a great way to get free money and earn free gift cards right from your phone.
The app is fairly new so some of the reviewers claim they have problems cashing their points for rewards. I used the app for a few days and got a $5 gift card without any problems.
Overall, the app has a 3.9/5 rating in the app store with over 419+ reviews. It's worth checking out if you have some free time and want to earn gift cards for playing games.
13. AppStation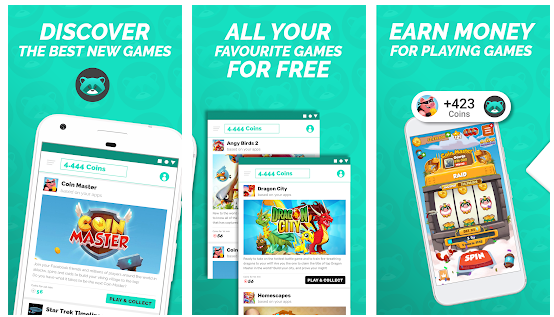 One of the best game apps to win real money is Appstation. You can download AppStation for free (no deposits, no in-app purchases). Choose and play your favorite game from the addicting list of free games and get rewards for every minute you spend playing games.
The app has over 100K positive reviews in the Google Play store. I like using it because it helps me discover new fun games and getting paid is a huge perk. You can cash out your earnings for cash via PayPal, Amazon gift cards and more.
14. Cash'em All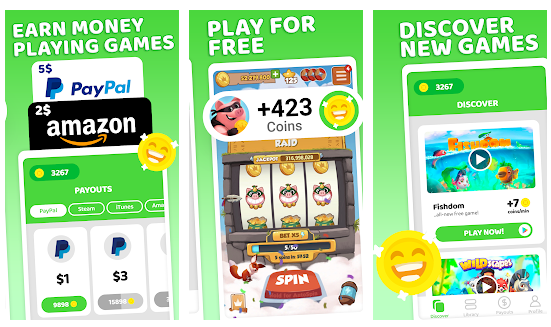 Cash'em All is another free game app to win real money, awesome gift cards, prizes and vouchers for playing mobile games.
This app really lets you win real money and boasts over 30k positive reviews in the Google Play store. One recent review states:
"This app does what it says. I'm able to win real money for playing games on my phone. What's not to love?"
It works similar to Mistplay and AppStation, where you can discover and play new and popular games every day from your list, spend time playing them and earn coins then trade coins for gift cards or cash out using PayPal.
Apps That Pay You to Play Games
If you are a casual gamer or don't want to put in the effort to master one video game that may not offer a lucrative pay off — you can still get paid to play games.
The catch? These games will be on your phone and the earnings will be around up to $100 fast per month.
This is a perfect opportunity for those who love playing video games and just about anybody who wants to play games but still has a full-time job. Or, for anyone who wants to sit in their pajamas and use apps that pay you real money.
Legit Ways to Get Paid to Play Video Games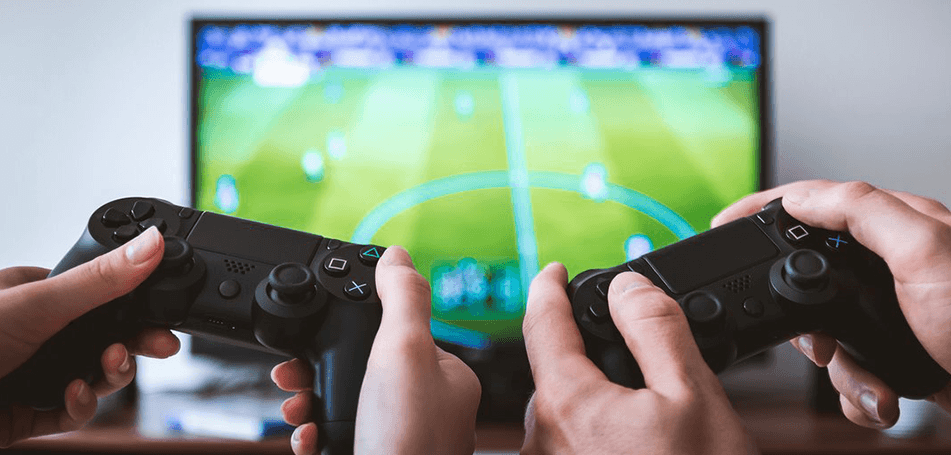 You can only earn so much money with game apps that pay. If you want to get serious about earning larger amounts of money for playing video games on consoles, I've got you covered. Here is a list of ways how you can get paid to play games.
Become a Beta Tester
If you enjoy playing video games and want to get paid to play them, then becoming a beta tester is for you.
As a beta tester you are able to play video games conveniently at home, work at flexible hours, set your own schedule, spend more time with your family and friends, and get a nice big fat paycheck at the end of the month.
It's no secret that video games need to go through some testing before they hit the market. The games need feedback and to see if any bugs arise during gameplay. This is where you can come in and profit by getting paid to play games.
Things that I like about the get paid to play games opportunity:
Get paid to play and review new games
Receive new and/or unreleased games to test or review (you can keep them or sell them later on)
Opportunity to receive new products to test and review such as game consoles, memory cards, or controllers
Opportunity to get invited to game conferences, launches, exhibits and conventions such as E3, Japan Game Expos
Get Special Walkthroughs, Cheat Codes, Secrets, and other "Exploits" that only game testers know about
Most of the openings for game testers are on a 1099 basis (part-time). Some also require work from home.
But full-time video game beta tester jobs are available but you'll need relevant experience in the video game industry. You should look for a full-time game testing position at a large, reputable game development company.
If you wanted to try to become a beta tester, simply take to Indeed and type in 'Video Game Tester' a bunch of jobs will pop up. You can see an example of job openings below: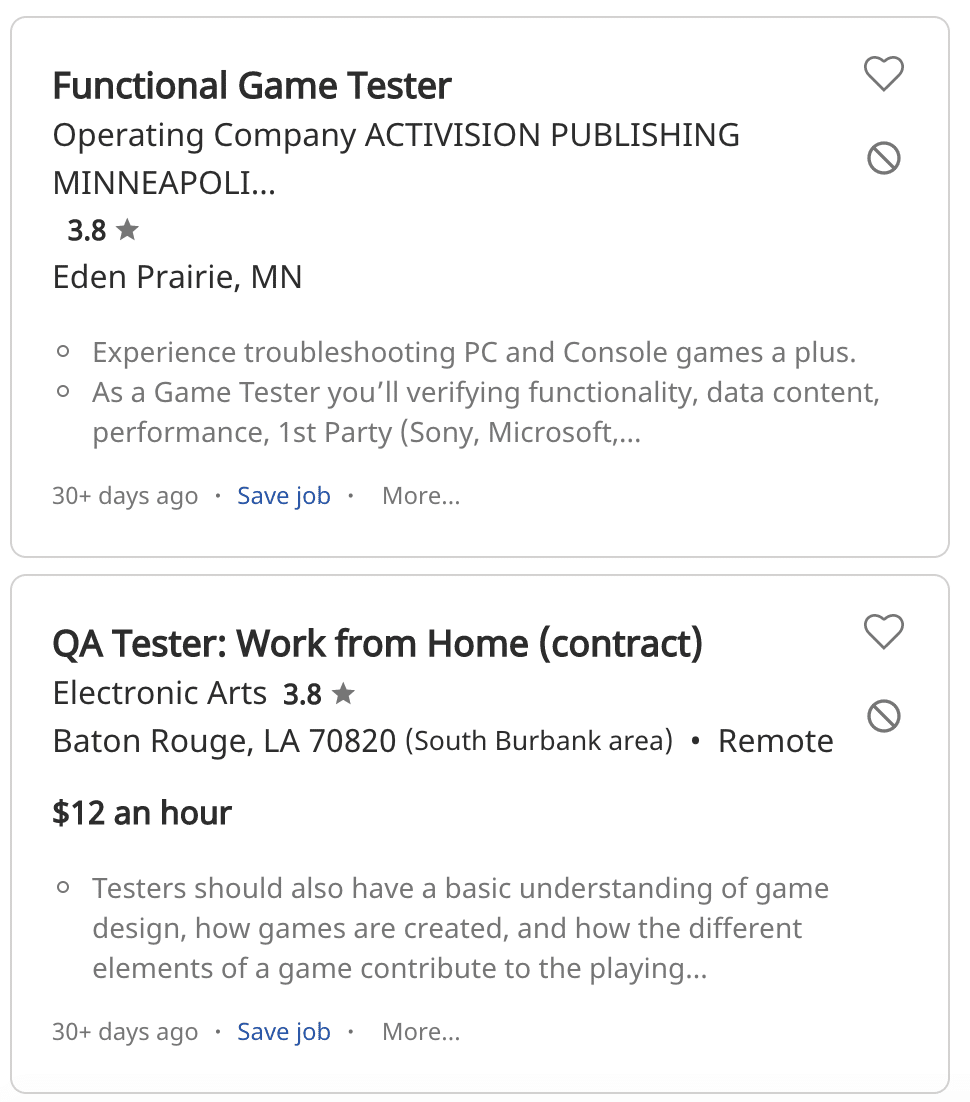 How much can you make as a video game beta tester? You can generally make good money by being a video game beta tester. While some jobs only pay $12 an hour, you can find some that pay $20+ per hour depending on the company.
Video Game Tournaments
You may have that one friend (or it may be you) who plays video games almost every day. Well, it turns out that they can monetize their hobby of playing games and start getting paid for it in tournaments that offer prizes (often cash).
One of the most flagship annual video tournaments is League of Legends. It is considered one of the most-watched esports events in the world. Here are the other most popular esports by tournament:
| RANK | GAME | VIEWERS |
| --- | --- | --- |
| 1 | League of Legends | 3.9 million |
| 2 | Fortnite | 2.3 million |
| 3 | Dota 2 | 2 million |
| 4 | Free Fire | 2 million |
To chalk it up, players can win bonuses for winning league titles. However, in 2019, the median eSports earnings are $673 which is not much. You can find other ways to make $600 fast in a month without many skills.
Become a Twitch Streamer
Twitch is the world's leading live streaming platform where you earn money for streaming yourself playing video games.
If you can build your subscriber base and get a ton of videos then you can even earn enough to do it full-time.
You can also use these Twitch videos on your YouTube channel to earn even more.
How Much Can You Make Playing Video Games?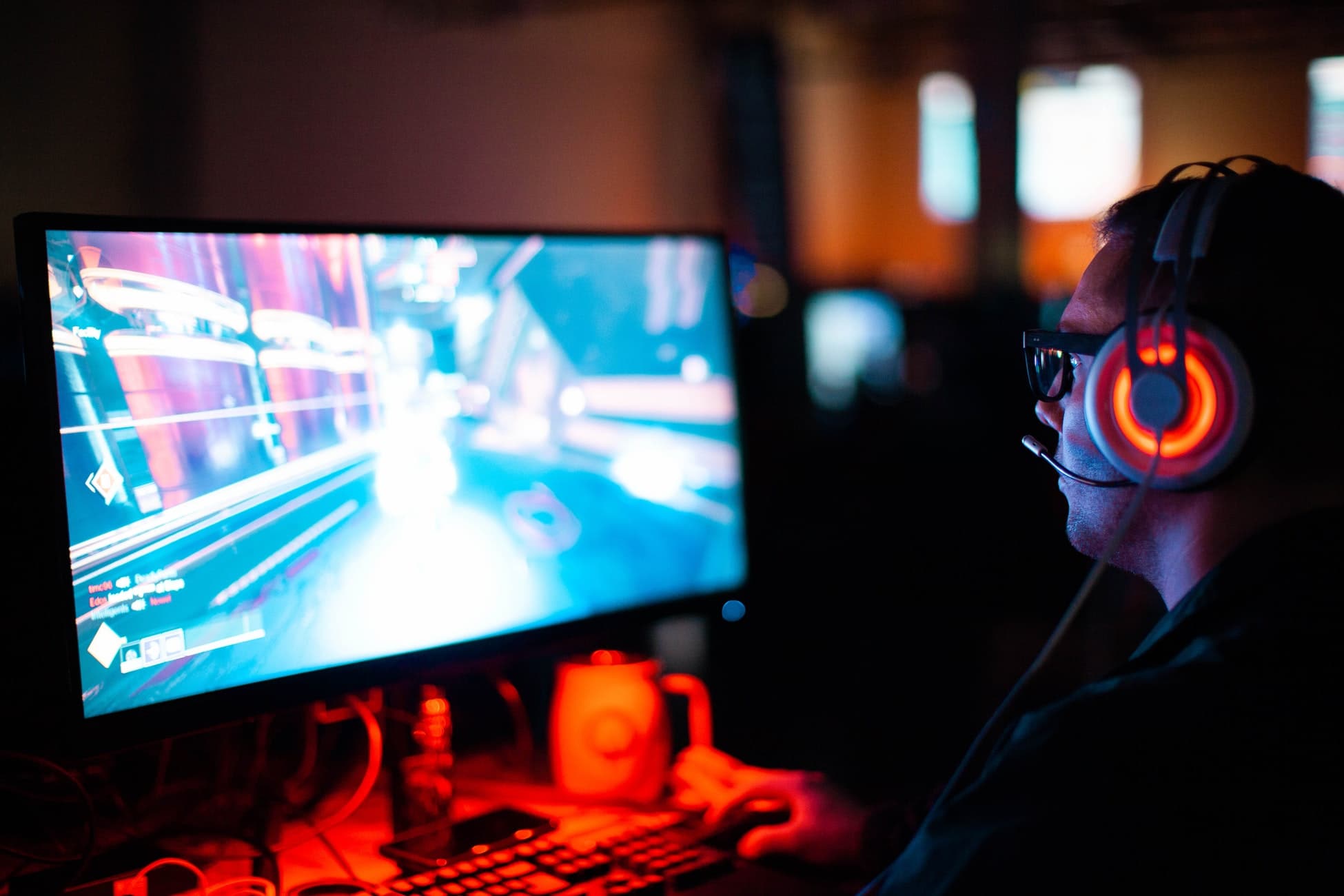 If you want to get paid to play games, you also have some options as you can see. Here are some of the perks that come with being a video game tester:
You can get paid to take online surveys and make from $5 to $75 each, or more
You can get paid to participate in focus groups and makeup to $150 an hour
You can get paid to try new games, gaming Consoles, controllers or other products and keep the free products too
You can get paid to preview new movie or game trailers for $4 to $25 an hour
You can get paid to review new games for up to $30 an hour
Now you can try and live the digital nomad lifestyle and make extra cash by providing video game reviews to thousands of their partners.
Start Getting Paid to Play Games at Home
So now you know that everyday Gaming companies are paying big bucks to people just to know how they like the game. It's true and can become a lucrative side hustle for just about anyone who enjoys playin games.
This post has covered:
Best game apps to win real money playing games
Making money as a video game tester
Additional ways to make money by playing video games
Plus, you can earn money without even having to leave your house. These money making apps pay you to play games for numerous reasons.
Companies are desperate to understand how you think and shop and why you buy certain games or products because this helps their companies improve their products, and they, in turn, they pay you money for your opinion.
Right now, they have a pipeline of hundreds of market research firms and game companies looking for video game testers, survey takers, and beta testers.
If you are looking for working full time, or want to make some extra cash, these options above are your ticket to fun, easy money to get paid to play games.
Do you know any other game apps to win real money? Let us know in the comments below!