Is Survey Junkie legit and worth your time? That's the question our Survey Junkie review tackles (and more) as we put the paid online survey site to the test.
You may have heard that taking online surveys with Survey Junkie to make extra money is a no-brainer. You probably know that you won't get rich or make hundreds of dollars per day with surveys alone — but you won't waste much time, and you can make some money the easy way.
That's where Survey Junkie can be a good fit that can pay you to take online surveys, participate in online focus groups, and try new products. It is free all around – free to join and they don't charge anything to be a member (they will actually pay you in cash to your PayPal account).
If you're strapped for time, the bottom line is that Survey Junkie pays up to $5 per survey, and many of them take less than 5 minutes to complete. It is one of the highest-paying survey sites that actually works.
Click here to start making extra cash with Survey Junkie or continue reading BeerMoney's official Survey Junkie review.
What is Survey Junkie?
Survey Junkie is an online community with over 3 million members dedicated to making your voice heard. Survey Junkie is constantly listening to the members to hear what they like and do not like, and always making optimizations to improve the user experience.
Customers trust Survey Junkie to deliver them with the freshest content, because members share their thoughts about products and services they use every day. Survey Junkie is available on desktop, Apple iPhone, and Android devices.
Is Survey Junkie Legit?
Paid surveys can be a simple way to pad your bank account in your free time. You probably know surveys aren't my favorite way to make extra money, but I make an exception for it when you're just hanging out — e.g. watching T.V., riding the metro, during your break at work, or in the back of an Uber. Might as well click a few buttons and make some money while you're at it. It's easy.
Also, Survey Junkie is the highest-paying survey site I have come across so far, besides Swagbucks.
I'm happy to report that Survey Junkie is legit — at least in my experience. Survey Junkie is run by DISQO, which is a CA-based company, which was founded in 2011. Every day, hundreds of brands you love turn to DISQO for consumer insight, and the information shared by the Survey Junkie community powers that research. The Better Business Bureau has accredited them and they currently have a B rating. According to the BBB website, 280 of its complaints were resolved.
Survey Junkie has a 4.5-star rating on Trustpilot, with more than 12,800 reviews total. With most reviewers posting positive feedback and just a small number of the population giving it negative ratings, Survey Junkie is highly recommended by consumers.
Survey Junkie's website straightforwardly proclaims, "You will NOT get rich from taking surveys" and thousands of users have reported earning real money with its surveys. That being said, Survey Junkie is a trustworthy market research company. It was ranked #1 for BeerMoney's highest-paying survey sites. You can easily earn $4-6/hr and get paid via Paypal instantly. What's not to love?
Promotion: Earn your first 150+ points just by signing up and filling out your profile through our promotional link.
How Much Does Survey Junkie Pay?
Survey Junkie will pay you between $0.50 and $3 for every survey that you complete which takes less than 5 minutes to complete. You may also receive points from your referrals. These points can be used to enter drawings and win cash prizes.
In addition to surveys, they occasionally offer product testing opportunities that can pay out several hundred dollars per test and are generally higher-paying. They even have focus groups in major cities that pay more than $100.
You can choose to redeem your points for gift cards, cash or enter drawings for prizes such as iPads, Amazon, iTunes gift cards, Sephora gift cards, Starbucks, Walmart, Target, or Groupon gift cards and other popular brand merchandise. They have a pretty extensive FAQ section on their site, so if I missed something in my review, it's probably covered there.
Is Survey Junkie Worth Using?
If a quality survey site is what you're looking for, then Survey Junkie is worth a shot. Survey Junkie's interface is super smooth and intuitive (unlike the majority of other survey companies), and members are paid in cash via Paypal.
The payouts are similar to most other legit survey companies but if you want to take surveys on your smartphone, I recommend taking surveys with Survey Junkie.
You can take a look at this in-depth video review of Survey Junkie for more information regarding the payouts and how much you can earn with this company.
How Does Survey Junkie Work?
1. Take surveys
How Much You Can Earn: 1 – 150 points (1,000 points = $10 USD)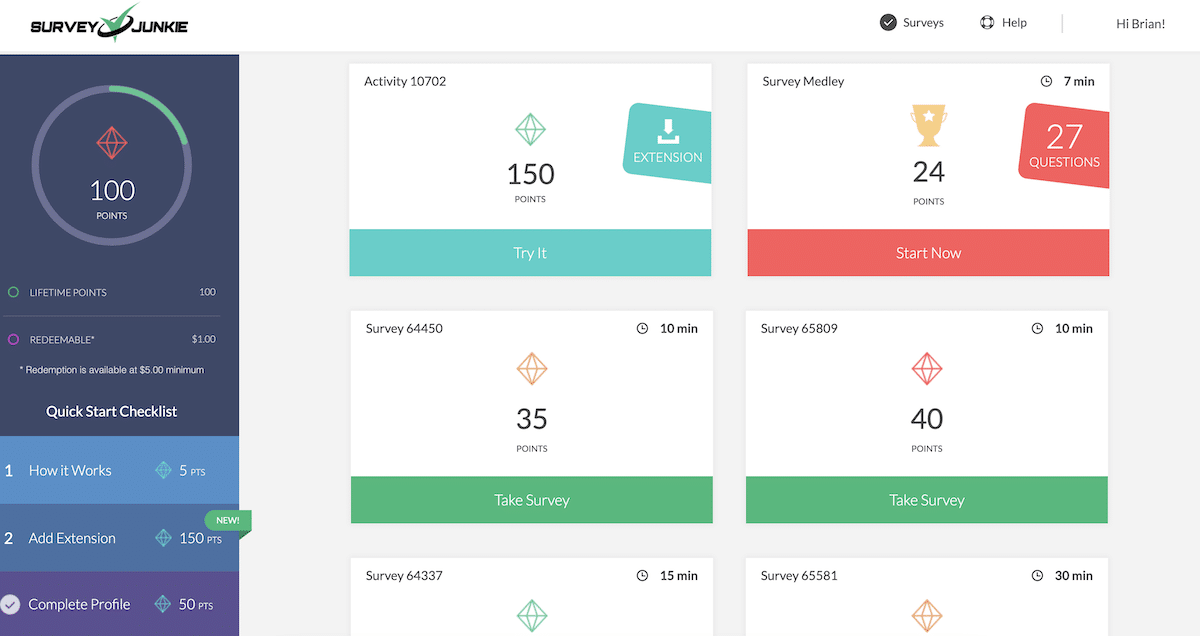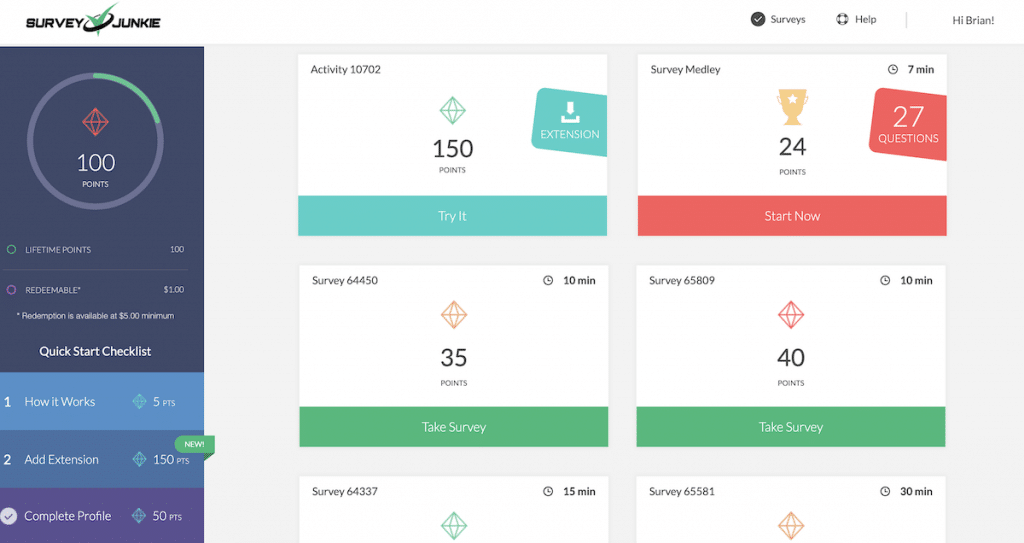 Survey Junkie makes money by charging businesses and organizations for access to their database of panel members and the information they're interested in learning. The company pays its members for their opinions via cash or gift cards. The surveys vary in length and pay, but most take about 5 minutes or less.
2. Complete phone surveys
How Much You Can Earn: $5 – $100
Survey Junkie also conducts phone surveys that can pay anywhere from $5 to $100. They do not typically advertise there are phone surveys available, but they will send an email every once in a while for users to be notified if any become available.
3. Test products
How Much You Can Earn: $5 – $50
There are also product testing opportunities that can pay between $5 and $50 per test. You will need to fill out an application in order to be considered for any of these tests, and it's important that you read the fine print because sometimes they require you to have a minimum amount of points before testing can begin.
4. Join focus groups
How Much You Can Earn: $25 – $150
Focus groups are also available online and in-person, and you can earn $25 to $150 for participating. You will need to apply and go through an interview process, but once you are accepted, it is very easy work.
5. Survey Junkie Pulse
How Much You Can Earn: Varies
Survey Junkie Pulse (SJ Pulse) is a research panel that works to gather browsing habits, online activity, preferences of online shoppers in order to help business owners make decisions on how they can better serve their customers. It is separate from the Survey Junkie dashboard and works as a browser extension that analyzes your search history and sends you surveys based on it.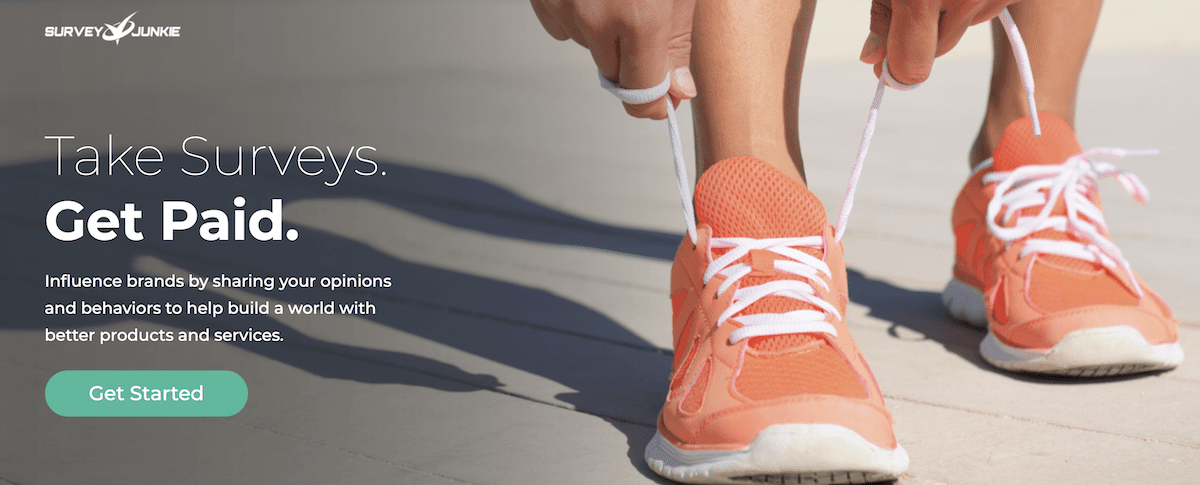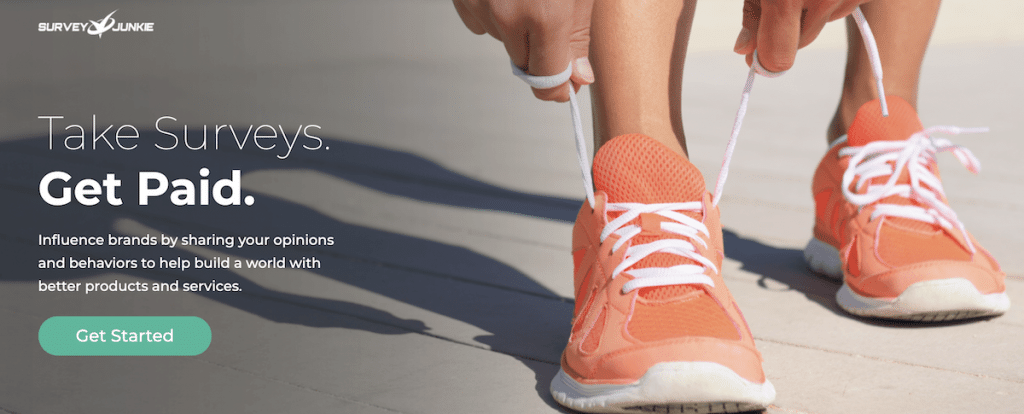 Pros and Cons of Survey Junkie
| Pros | Cons |
| --- | --- |
| There's absolutely no cost to join. Tip: Never register for a survey site that asks you for cash | Sometimes you'll be a few questions in only to find out that you aren't eligible for a survey, but you still get points |
| Points can be exchanged for both cash to PayPal and for gift cards | Minimum balance of $10 USD needed for Payout |
| Your information will go toward helping companies improve their products and services | Only users from the United States, Canada, and Australia can participate with future plans to expand |
| Answers that you provide are kept completely anonymous | |
| The potential for high earnings (depends on your demographics) | |
| Registration bonus if you go through this link. | |
| If you're not eligible for a survey, you're still given points | |
How Do You Join Survey Junkie?
Survey Junkie is FREE to join. You must be at least 13 years old and reside in the United States, Canada, or Australia. You can create an account with a username and password. Or you can create an account using Facebook or Google+ in under 2 minutes.
Survey Junkie Rewards
How can you cash out your points?
As soon as you have 1,000 points (just $10 and about one hour of work), you can make a PayPal withdrawal, redeem with e-Giftcard or cash out with Dwolla. You can see your points total in the upper left-hand corner of your dashboard at all times.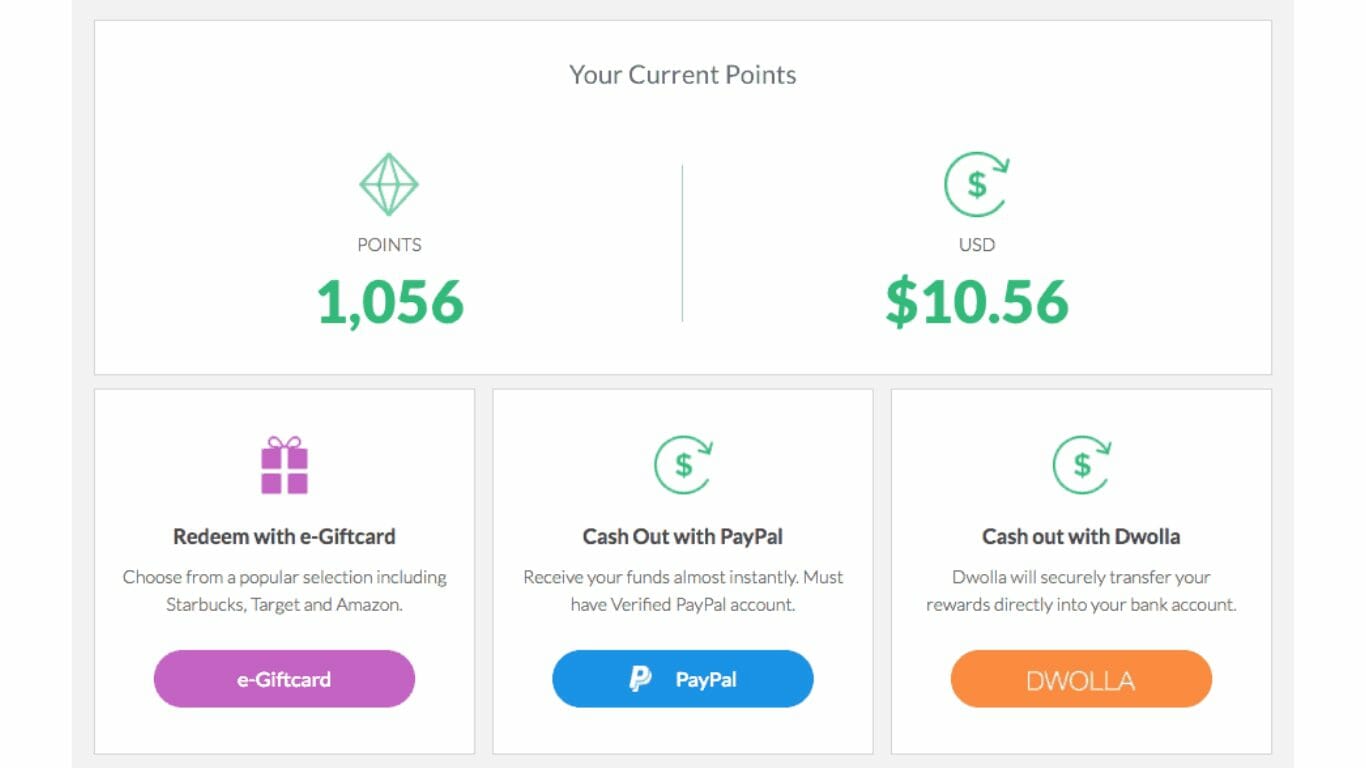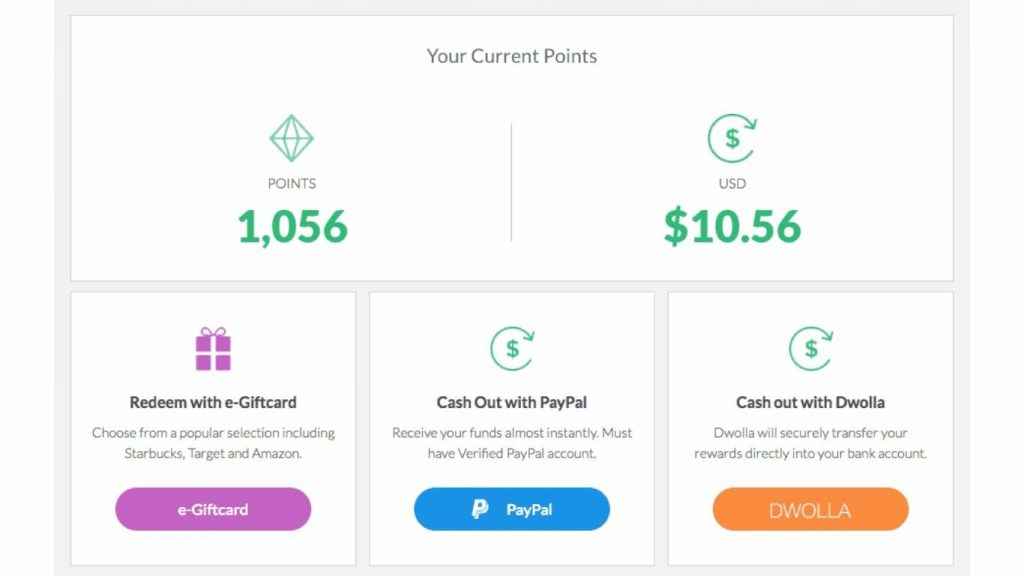 Earn rewards via PayPal and other popular eGift Cards such as Amazon, Sephora, Groupon, Starbucks, Target, and iTunes. Members are rewarded for every action they take. So, even if you're disqualified from a survey, you still get a few points just for trying. Survey Junkie is also taking measures to improve the user experience. The members also get paid the same day they cash out, there is no waiting period.
Survey Junkie Hacks & Tips
Here are some hacks and tips to help you get the most out of Survey Junkie.
Get involved in their referral program to earn more. They pay you to share their opportunity with your friends and family.
It's also a good idea to open a separate Yahoo or Gmail account just for signing up with Survey Junkie or the companies they may link to. Apparently, you may get flooded with more survey offers or spam. So it's better to be on the safe side.
Survey Junkie Promotions
Promotion: Earn your first 150+ points just by signing up and filling out your profile. Sign up now
Ready to Start Earning with Survey Junkie?
It's true — it is possible to make money through Survey Junkie's paid surveys as the industry has evolved. The short surveys are getting better/interesting and the payouts are making it incentivizing to do them. I tried it a few years ago and it was definitely was difficult to earn a few bucks.
To start, just visit Survey Junkie's website and enter your email address and a few other details. You'll need to provide basic information like your name, ZIP code, date of birth, gender.
If you want to try the highest paying surveys on the interwebs, then both and Survey Junkie and/or Swagbucks should be your bread and butter. These companies are legit and do pay out in cash via Paypal and offer a ton of survey opportunities.
Tip: If you're looking for other ways to make some fast cash, there are a lot of companies that often give out freebies just for signing up, some even offer cash. You can see this list of the best money making apps to see some of my favorites.
If you wanted to take surveys online then you can't go wrong with this survey site. To chalk it up, Survey Junkie's interface is super smooth and intuitive (unlike the majority of survey company websites that look like they were built in 1997), and members are paid in cash via Paypal.
Oh, and Survey Junkie also has a 4.5-rating on TrustPilot — the highest of any online survey company. This is one is the more reputable survey companies out there and I use it often to make $40 fast in my spare time.