How much money can you make reselling tickets? That number may surprise you. Reselling tickets for profit is a great side hustle idea to make money.
Making money online, and making it quickly is something that's gaining more and more traction. People are seeing all the opportunities of making money online and are looking to get started as well. There are hundreds of ways to make money online, but being successful means picking one method and sticking to it.
Reselling has become huge in the past few years as people can now buy stuff from yard sales, outlets, and other places and resell them online on eBay or Amazon for a higher price. The hard thing about reselling online is that you must go pick up inventory, hold it for a while, and then pay to ship it out.
To make that extra 200 dollars a day online as a side income you must pick a business that's scalable, meaning that you can continue to grow realistically.
Ticket brokering or ticket reselling is one of the few reselling businesses that can be started quickly and scaled quickly as well.
There are currently 1000's of ticket resellers making money online and here is how they do it:
Ticket brokers earn money by buying tickets for events that will sell out. Once the event sells out, the tickets are easily resold online for a higher price then what you paid, and you make money.
It is as simple as that. You become a ticket broker and start making money online literally right now by doing these 3 steps below.
Want to Make Money Selling Tickets?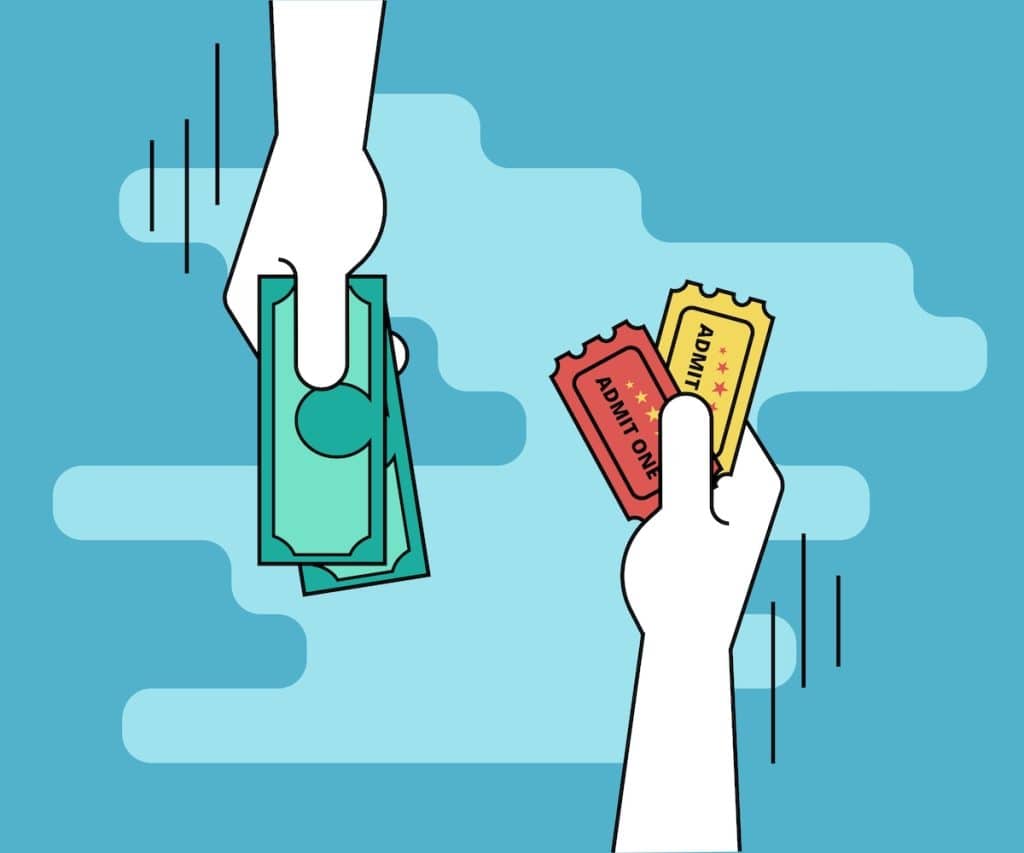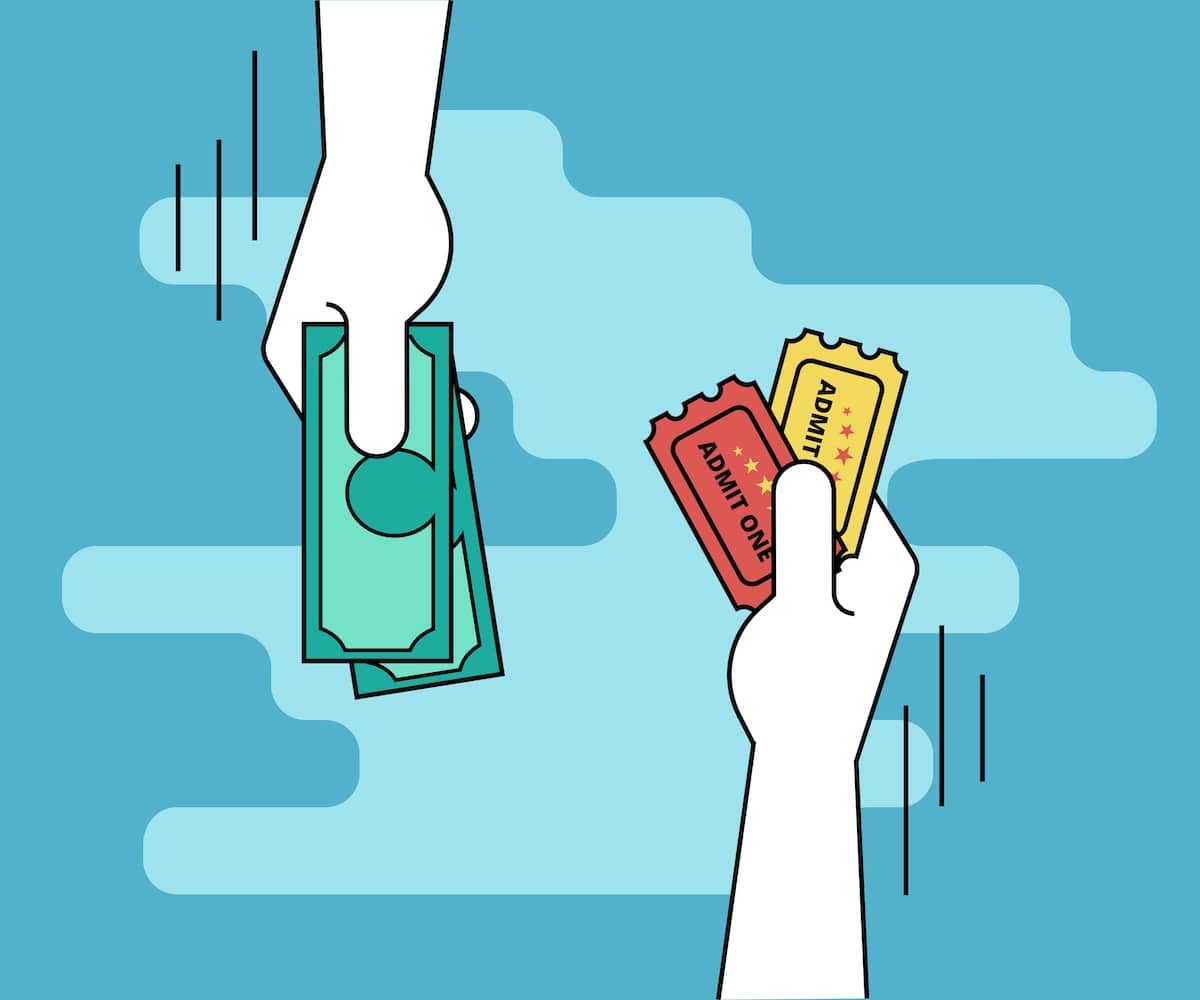 The ticket industry is booming with the pandemic easing up and more concert goers willing to pay more than face value for sold out events. But how can you profit?
In this article, we will share how you can make disposable income with just an internet connection and buying and selling tickets online.
The basics of reselling tickets
Here is how it works:
Go to Ticketmaster.com today, and if you know an event will sell out in your city, buy some tickets.
Then upload the mobile tickets to Stubhub.com, enter a price for them "price similar to other resellers"
Once the tickets sell, you get paid from StubHub through PayPal.
Now that you've got a very fundamental understanding of how reselling tickets works, let's dig a little deeper so you can get a better understanding.
A problem you might be thinking of right now is "well I don't know any events near me that will sell out" and this is a very normal issue to face.
How to find tickets that will sell out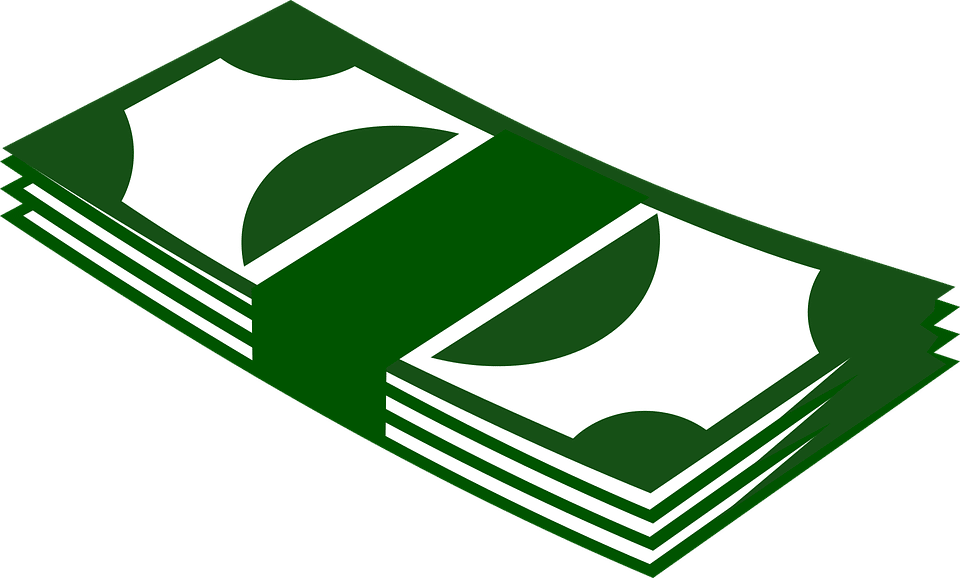 Here are some ways you can find those sell out events.
For any event check these things before buying tickets to resell:
Day of the Week: The event is on a weekend night or on a night that people can attend
Venue Capacity: This size of the venue is smaller (3000 or less) or demand is enough to fill
Venue Location: The venue is located in a big metropolitan city where there is enough population
Seat Location: The seat is at a price break point where it is cheaper than other seats
Time of Day: The event is at night or later in the day when people can attend.
Event Date: Is the event on a special day? Holiday or other circumstances that may influence the demand?
Artist Sell out History: Does this artist sellout a lot of shows often?
Artist current Size: Is this artist exploding or is his overall demand going down? (Spotify monthly)
Age limits on Tickets: Are tickets age limited to 18+ or 21+ (very important for resale)
How many shows are there: Is there more than one show for this artist, sometimes back to back (reduces demand)
Venue General Sellout rate: Does this venue generally sellout. Good location and small capacity can cause a place to sell out regardless of how good the performer is.
Ticket Listing: Is this ticket listed on both StubHub and TicketMaster so you can purchase and list for resale right away?
Going through and checking all these things before buying a ticket will help you find good tickets to buy and avoid buying stuff that won't do very well.
This checklist already gives you a pretty solid place to start making money from home reselling tickets.
How Much Money Can You Make Buying and Selling Tickets?
How much money can you make per month, per week, and per day reselling tickets?
How much money you make really depends on how many tickets you buy and how much more you can sell those tickets for.
On average, you want to sell the tickets you bought for 30%-50% more then what you paid.
If you bought $1,000 worth of tickets, you want to make back around $1300-$1500.
Of course, certain times you can make a lot more or just break even.
On Reddit, a user posted his spreedsheet of profit froom 6 weeks of ticket flipping: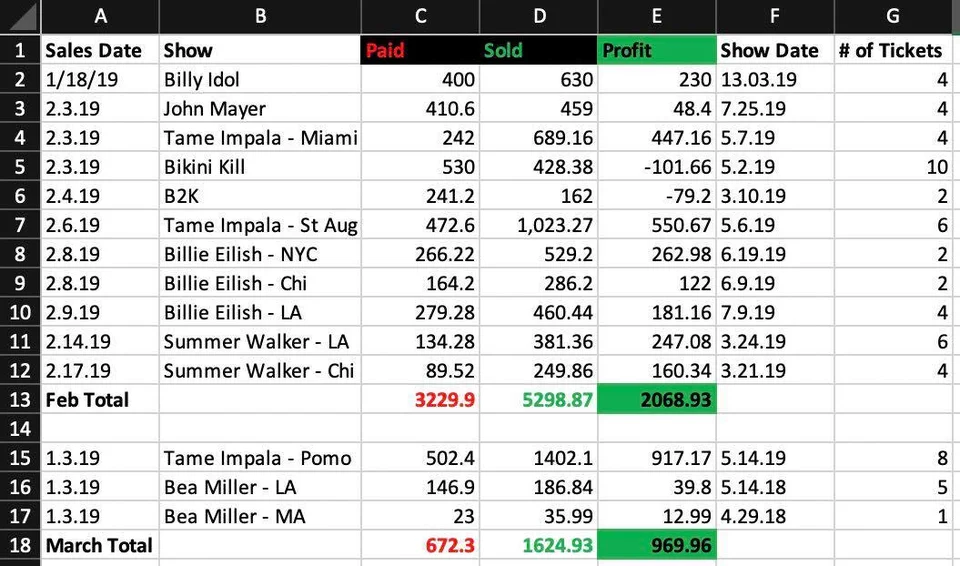 2 Examples of good resale scenario
You have season tickets to a baseball team that clutches a game and makes it to the next round, now those $6 dollar tickets could be selling for $100+.
You could have tickets to see Billie Eilish before her newest album was released and before she became the #1 played song on Spotify for a few months. This can take her $50 ticket at a small theater of about 3000-person capacity and bring that ticket cost to $250.
1 Example of a break-even scenario
You buy tickets to Elton John who usually does very well, a week later he announced that he will have a second show in the same place a week later, this weakens the demand for those tickets, and you may have to sell those $150 tickets for about $150 – $170.
So how much money you can make really depends on when your tickets are selling. On a good sale day, you can make anywhere from $100 a day to $1000+ in a day.
"There are brokers making a side income of an extra $1,000 online per month and other brokers doing upwards of $100,000 per month with 6+ employees."
So there is a wide range of income you can make whether you want to simply make a side income or make ticket reselling your full-time job.
Some legal considerations
Ticket resale laws vary from state to state but it is legal to resell in all 50 states if you are reselling online.
There are some specific laws that state you cannot resell physical tickets within 500 meters of the venue, but this doesn't apply to us since we are reselling strictly online.
If you have any questions or concerns, look up the specific regulations in your area which should be fairly easy to find. Once you get to 20k in resale volume you should think about forming LLC.
Also, of course, make sure to pay your taxes on profits taken.
Other perks of reselling tickets
There are some benefits that come along with reselling tickets, of course making money online from the comfort of your laptop is one of them. There are a few other things that you should keep in mind.
Buying and reselling means you can rake up a lot of credit card points or airline miles. For me personally, this has meant free flights and hotels very frequently.
You can also get Citi cards, or other cards that actually you give you back 3% of entertainment (which is huge for resellers).
Where to learn more
Ticket reselling has been around for a while and although it is one of the simplest methods to make money online, there is still a lot you can learn about to help you make money and go from making a few hundred a week, to making thousands of dollars month after month.
Ticketflipping.com is a great resource for people looking to make a side income online reselling tickets.

At Ticketflipping.com you can find a bunch of training guides in their blog posts along with free training videos on getting started on their Youtube Channel. They also have a paid course you can sign up for if you want to learn quickly and start making right away.
Advanced ticket reselling training: Learn how to get presale codes to highly demanded tickets, how to broadcast your tickets to 100's of marketplaces at once so you can resell your tickets faster, and much more.
Get weekly market predictions: Event recommendations to purchase from Sunday-Thursday about what events you should buy and resell.
Ticket Analytics tools which display how many tickets are left for any show so you can buy tickets right before they sell out.
Access to a private members group chat where you can talk to other resellers and experienced ticket brokers
They are a great resource for ticket scalpers.
Ready to Sell Tickets?
Ready to sell your tickets as your new side hustle and make a profit? Ticket flipping is the process of buying concert tickets, tickets to sporting events, and other event tickets and flipping them to make a profit. You can use ticket seller sites or other ticket websites in this article to make a profit.
If you buy tickets on a credit card you can also churn a lot of points for flights and CC signup bonuses. This can definitely get you a few trips to Hawaii or Europe each year without doing manufactured spending!
Good luck on your goal to make money selling tickets.