If you're like me, then you're likely glued to your phone throughout the day.
You're probably surfing the web, going on social media, or playing games… but these activities or apps aren't paying you.
Instead, sign up for these apps that pay real money and get hip to the highest paying apps of 2024 — effortlessly.
We promise you can get $50 instantly (at least) through these apps that pay you real money.
Most people think that these types of apps aren't legit… or that they don't pay out. But contrary to popular belief, these apps are legit and can get you a little extra cash in your wallet.
33 Apps That Pay You Real Money
There are legit apps out there that pay you real money! Here are our top apps that pay you through PayPal:
1. Pawns.app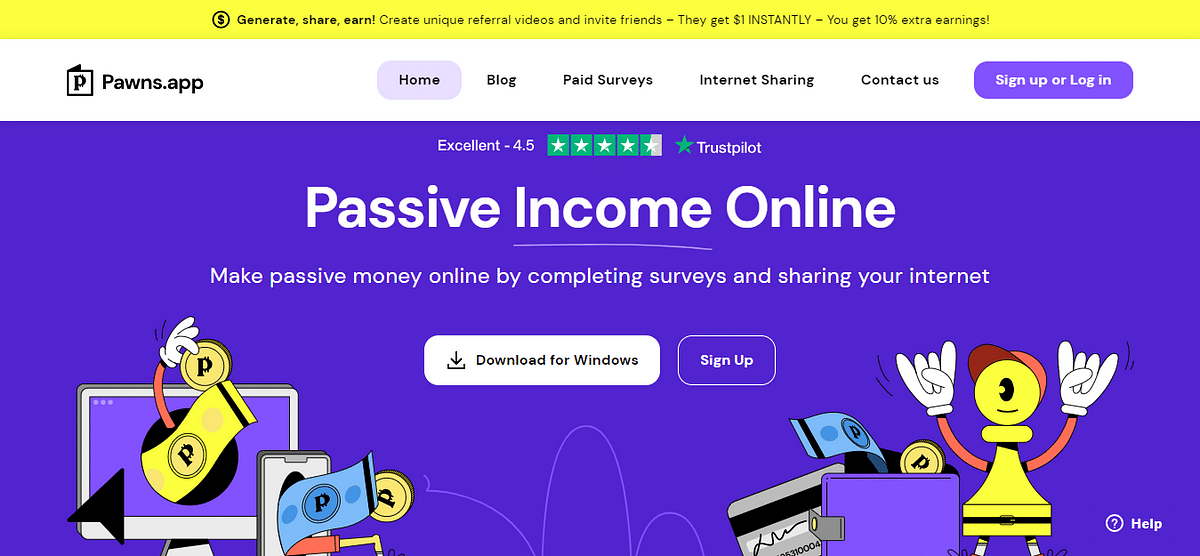 Pawns.app is an app that'll pay you real money just for installing it on your mobile or desktop devices and sharing your unused bandwidth with others.
You can also earn by taking surveys and get paid up to $2 per survey. Anyone can join easily and quickly, regardless of your location.
Last but not least, you can also share the app with friends and family and earn extra money along the way.
Once you reach $5 in earnings, you can get paid cash via PayPal or different gift cards. The app is 100% legit and pays instantly!
Sign up through here for a $3 bonus
2. Survey Junkie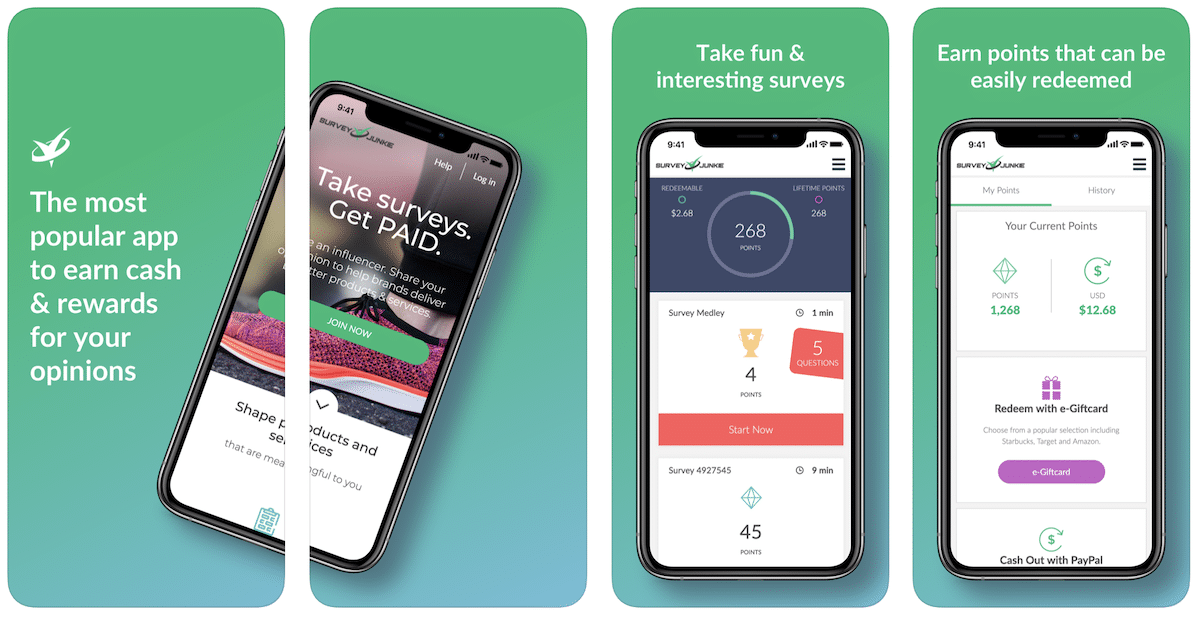 Once you're in you can take surveys and get paid at Survey Junkie. It's possible to make $30-50 a week completing surveys on your laptop or mobile device.
All you need to do is instantly qualify, then view exclusive offers in exchange for your opinions and get access to paid surveys, clinical trial opportunities, and other work offers.
Survey Junkie's interface is super smooth and intuitive (unlike the majority of survey company websites that look like they were built in 1997), and members are paid in cash via Paypal.
Oh, and Survey Junkie also has over 44,488 reviews with a 4.2/5 rating on TrustPilot — the highest of any online survey company. This is one is the more reputable survey companies out there and I use it often.
You can sign up for free here.
3. Mistplay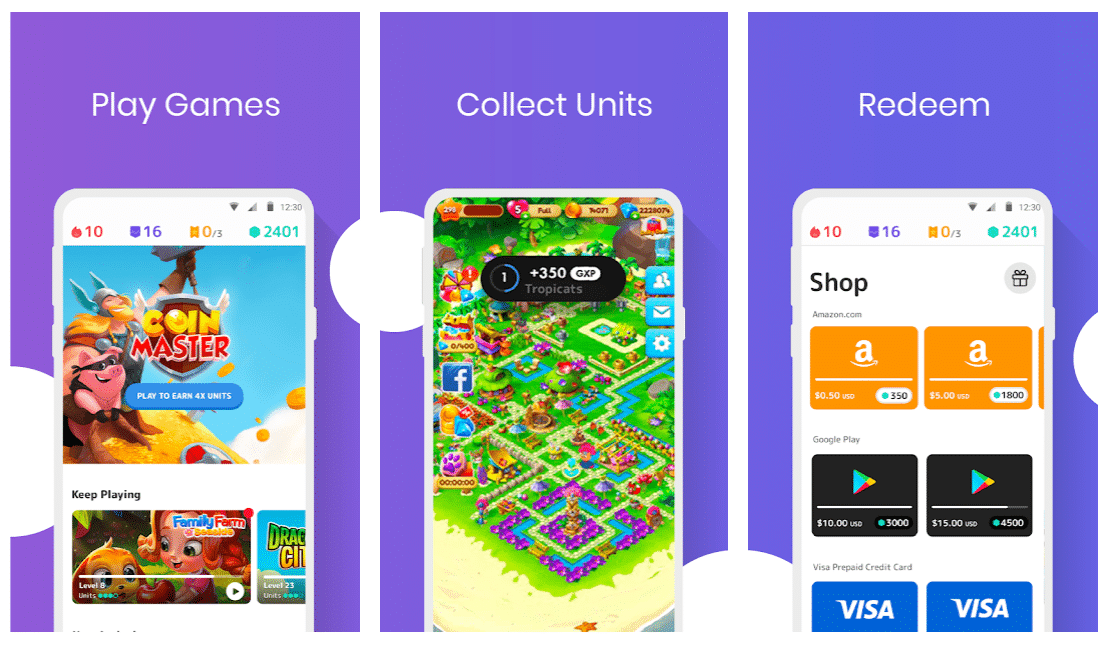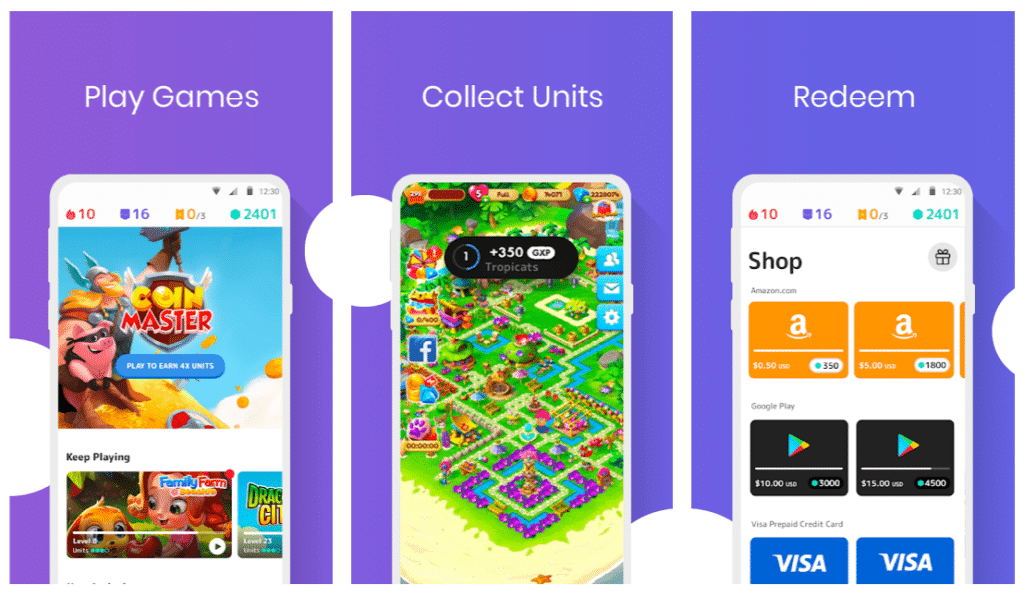 We all heard the old saying "time is money" right? Instead of playing games on your phone like everyone else and feeling bad for wasting your time — now you can get paid for it.
Getting paid for playing games sounds like a dream. But if you download the free MISTPLAY app, and then download games from it and play, you earn money.
As you level up you can earn more money for cash rewards or gift cards. If you're interested, I recommend you download the app from the Google Play store for free by clicking here.
5. Swagbucks
Swagbucks is one the best rewards sites to make some extra money and most of the tasks are incredibly simple to complete.
Swagbucks lets you earn money in so many ways like watching videos, taking surveys, earning cash back or playing games for real money.
But many users of the /r/beermoney submit love racking up SB (Swagbucks) by watching videos in their spare time by using a phone farm.
It's easy to rack up points though, members can earn a special currency called Swagbucks for completing offers, answering surveys, and logging online activity. You can redeem the currency for gift cards or cash rewards once you've accumulated enough.
This is one of the best apps that pays you through PayPal. You can cash out your SB as gift cards to hundreds of merchants or get your cash by PayPal. Many Redditors claim this to be one of the best rewards sites out there.
Interested? Get a $10 sign up bonus here.
7. Acorns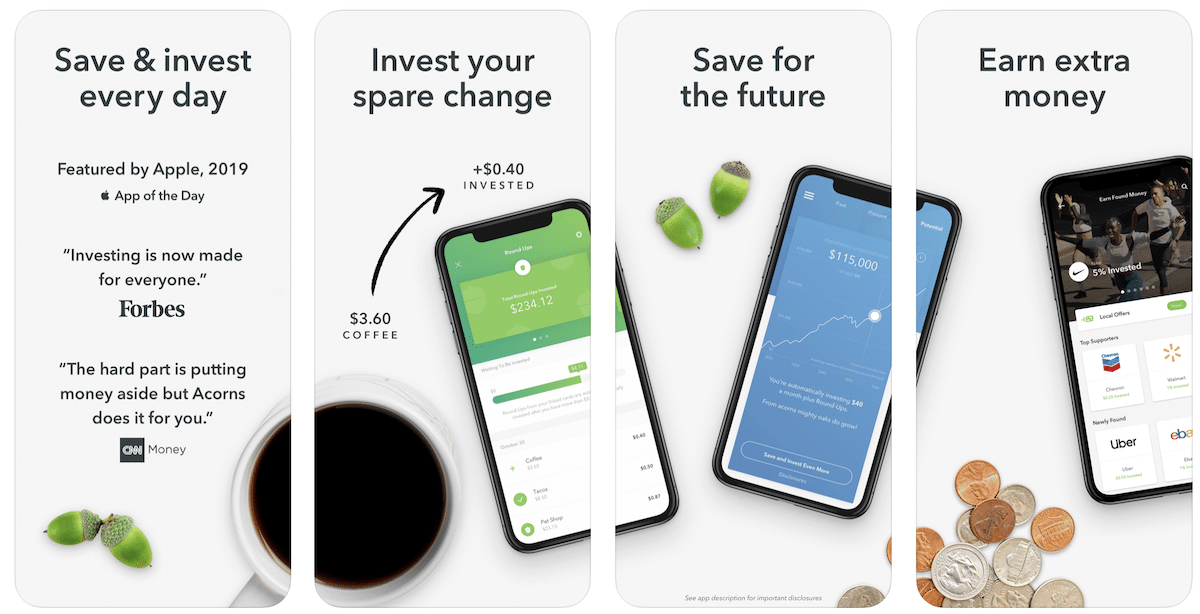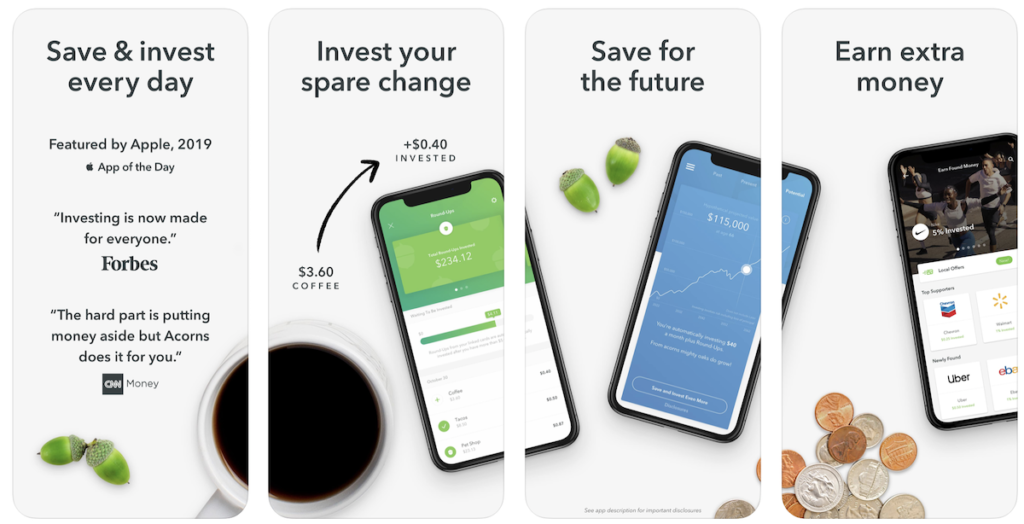 Acorns is one of the best investing apps that doesn't have account minimum balances or minimum investments.
The app works by rounding your linked card purchases to the nearest dollar and investing the rest into stocks.
You set your risk tolerance the innovative app does the rest — and it's easy to set up and they are up-front about their fees.
If you are a college student or under 24 years old, it's free, or you pay $3 a month to use it. If you want to try it out, you can get started with a $20 bonus to cover the first few months.
Sign up to try it risk-free with a $20 sign up bonus.
8. InboxDollars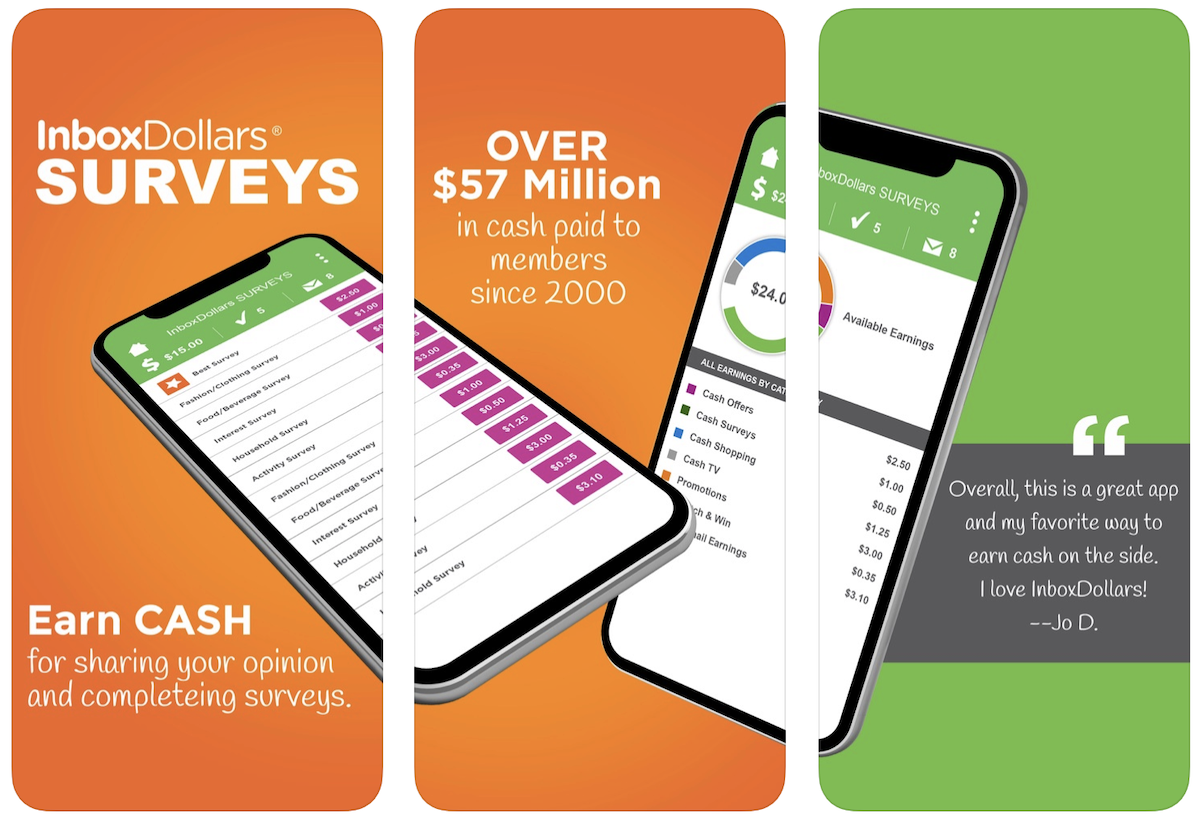 InboxDollars is one of the top apps that pay you for taking surveys and more. Do you ever spend a few minutes on your lunch break or at home watching videos online?
This money-making app is right up your alley. It's available on mobile and desktop and requires you to watch "fun" videos and then take surveys about them.
If you invest just five to 10 minutes per day, you can earn up to $50 extra per month.
That's not bad, especially if you stick with it, because you can continue to earn more. You'll get a $5 bonus just for signing up, which is quick and free.
9. Robinhood
Robinhood is a free investing app for your phone.
I really mean free all around – free to join and they don't charge any fees to buy or sell the stock. You can get a share of stock like Apple, Ford, or Sprint for free when you join through this link.
To get a free share of stock (worth up to $225) all you would need to do is download the Robinhood app through this link and be a new user. It's 100% free and legit.
The value of the free share may be anywhere between $2.50 and $225 and fluctuates based on market movements. You've got nothing to lose. I told you this was easy! Sign up through here.
10. Capital One Shopping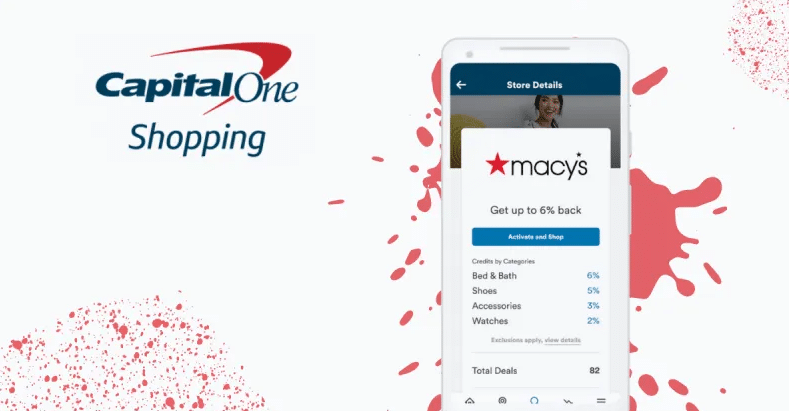 You might as well be throwing money away if you're not using Capital One Shopping. Price comparisons. Coupons. Credits.
This Chrome extension knows almost every trick in the frugal bible and will automatically try them for you (and the 1,500,000+ people currently using it).
Capital One Shopping gets you better offers, automatically applies the best coupon code at checkout, and lets you know when prices drop on products you've viewed and purchased.
11. Blackout Bingo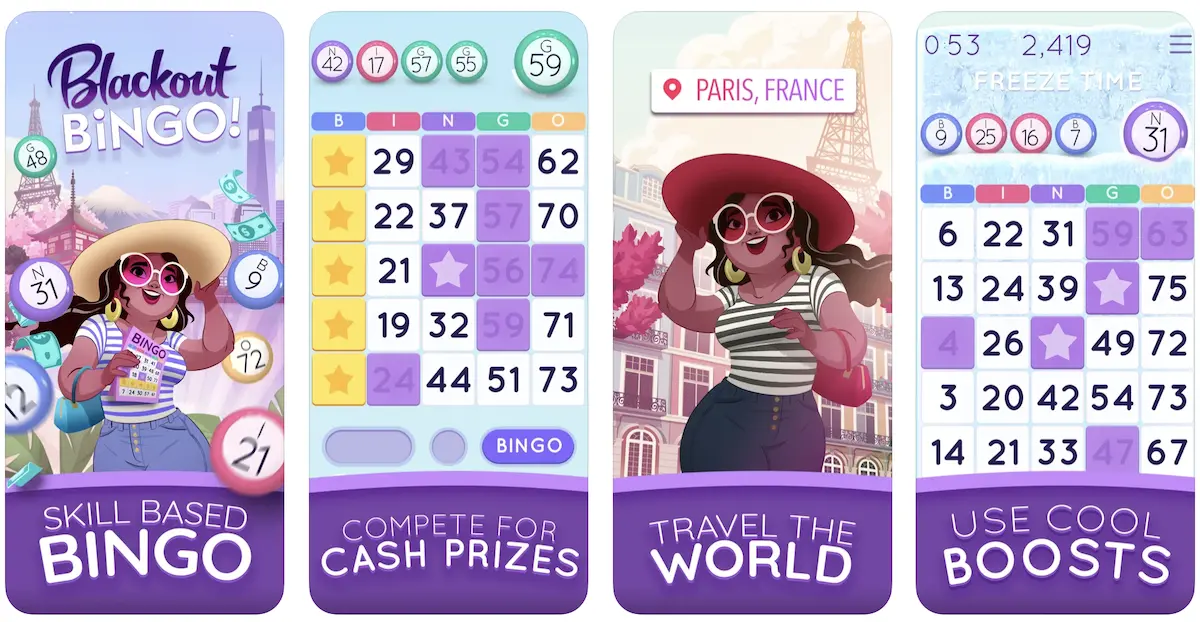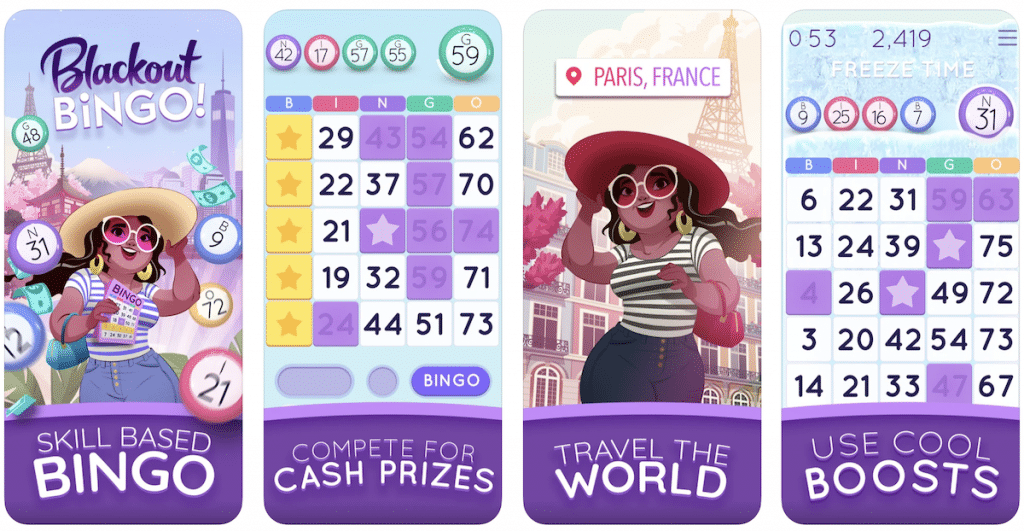 Blackout Bingo is a mobile game that pays real money. To start, download the app and create an account. Play against others in real-time by joining games with varying entry fees.
When you win, you get real money credited to your account, which you can withdraw using a payment method of your choice. To increase your winnings, look out for promotions and bonuses offered by the app.
13. Fundrise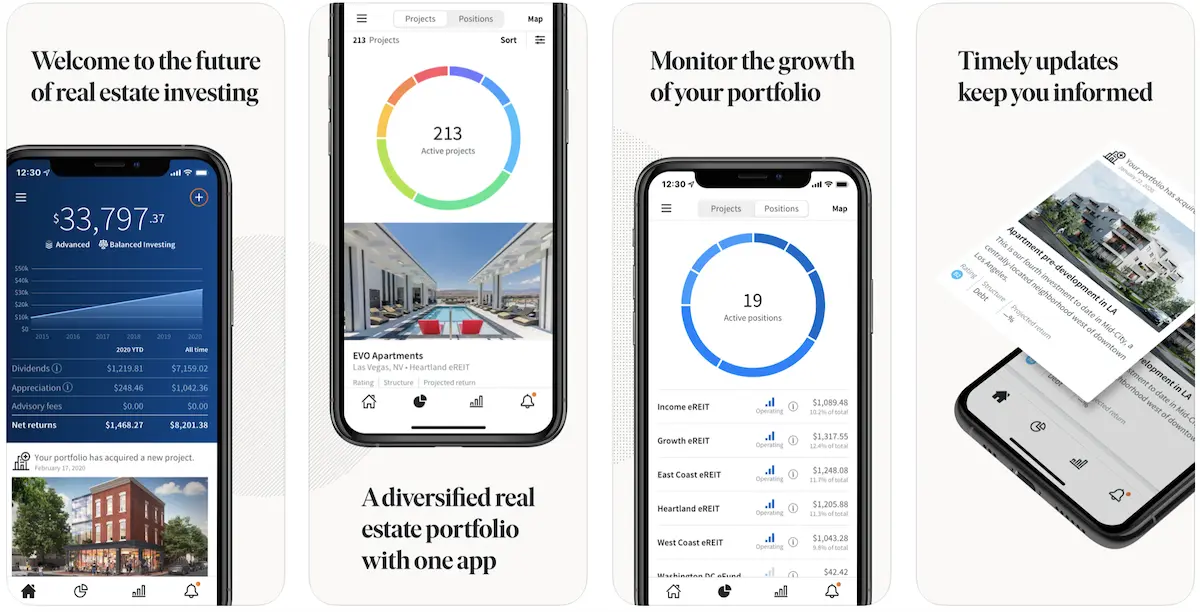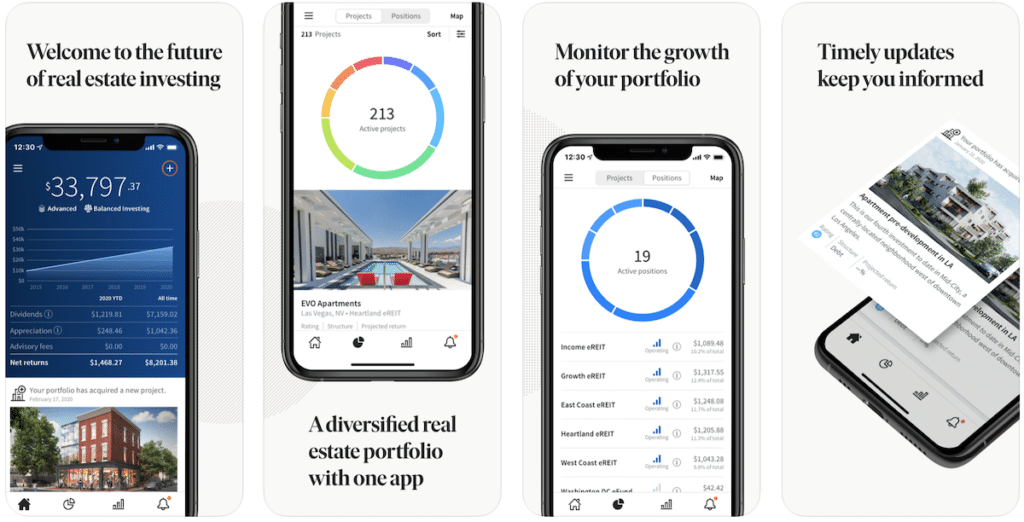 Fundrise is a real, much better and desirable alternative to stock market investment. With Fundrise, you deal in the private real estate market that allows you to invest just like the super successful institutions.
You don't have to be a millionaire to invest in these types of properties. You can now invest in large-scale real estate for as little as $10 with Fundrise.
Through their real estate investment products, investors earned an average of 8.7 – 12.4 percent on their money last year, and all without painting a wall or dealing with unruly tenants.
There is a reason why they currently have over 200,000+ users, this app really pays you! If you're interested, I recommend you sign up for more information from Fundrise by clicking here.
14. DoorDash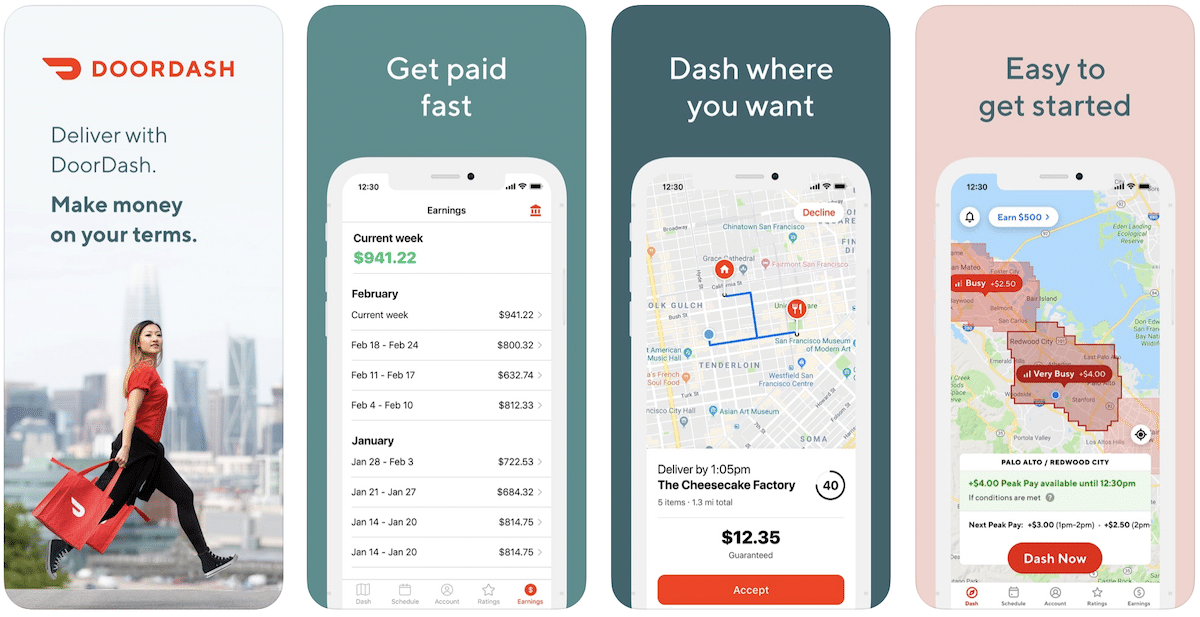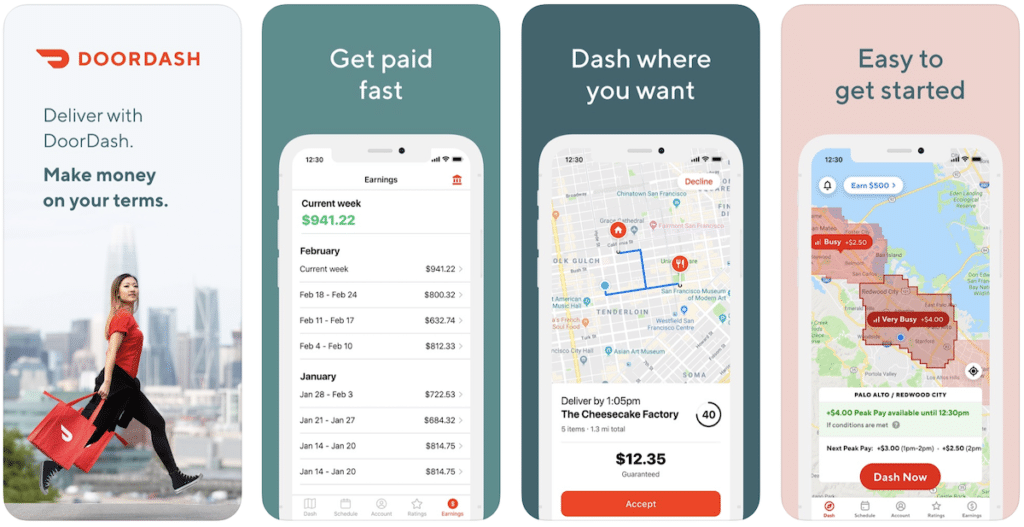 DoorDash is a delivery app job looking for people who want to start delivering food to earn extra money and work on their own schedule.
You choose the hours you work and get paid cash per order, so you can get paid daily
Once you sign up to become a dasher, DoorDash will reach out about an orientation. Complete the orientation, and you're on your way towards getting paid for every completed delivery plus 100% of tips received.
This is such an easy way to make money by delivering on your free time while making extra cash and funding your personal goals. Since you set your own hours, how much money you make depends on how many hours you put in.
If you're interested I recommend you sign up for information here.
15. Rocket Money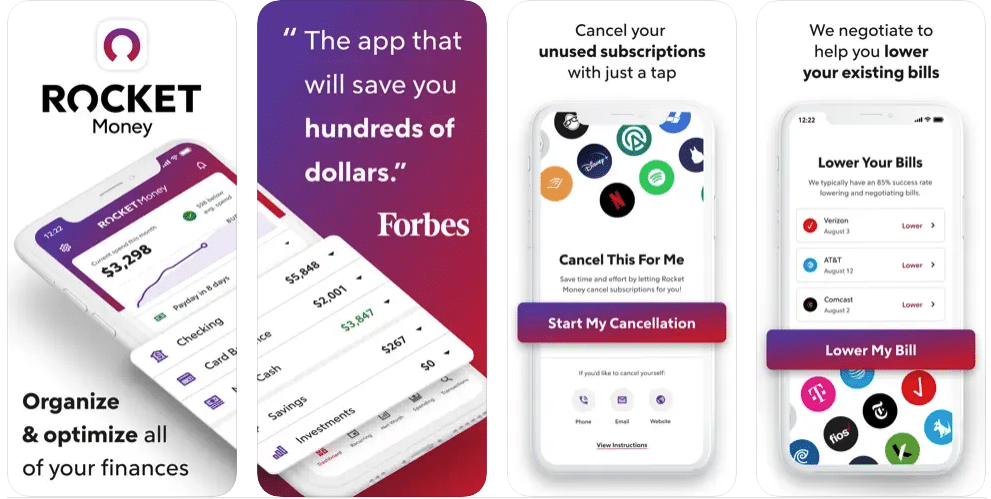 Rocket Money is a real, much better and desirable alternative to all the other money saving apps on the market. With Rocket Money, they have saved over $15M for its users on their bills (think cable or cell phone bills) and canceling forgotten subscriptions.
Have a cable bill that has been increasing over the years? You can now simply download a free app, and they will negotiate it down for you.
Rocket Money will help you take control of your money, users have saved over $15M to date, and all without being a financial expert or dealing with staying on top of your bills, which can be a full-time job.
There is a reason why they currently have over 50,000+ users, this app really gets you back free money.
If you're interested, I recommend you sign up for more information from Rocket Money.
17. Fetch Rewards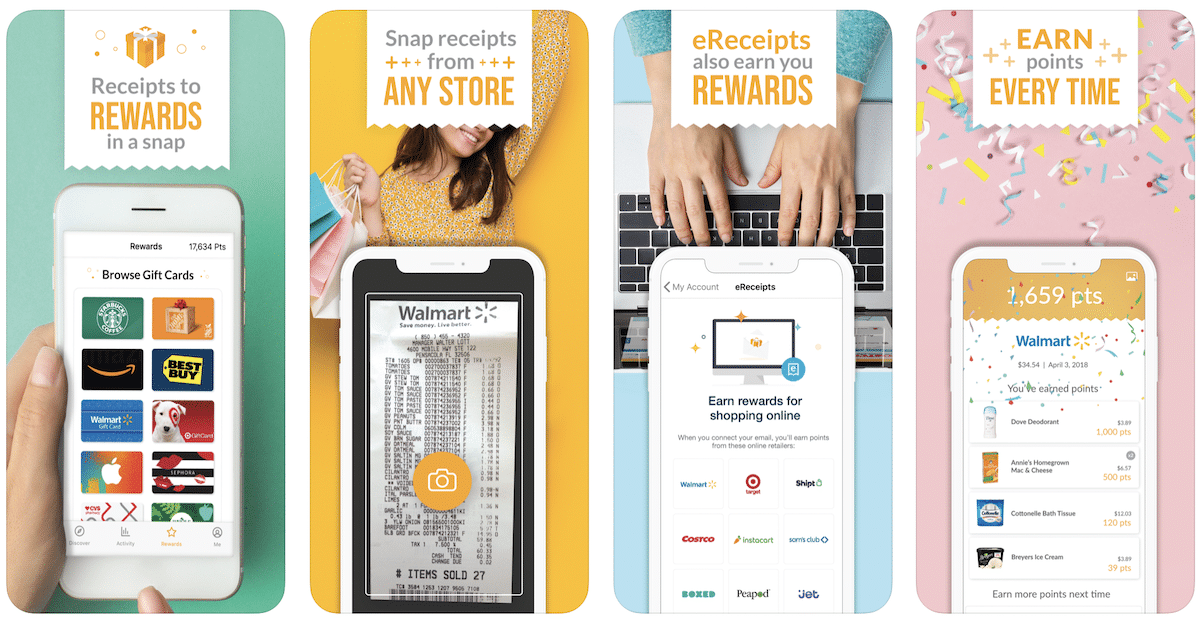 Fetch Rewards is a mobile rewards app that pays you for shopping (from any grocery store).
They work directly with popular brands to bring you savings on thousands of products every day, no matter where you get your groceries. Just scan your receipts and make money fast.
This is a great way to make money, the easy way, and can add up to a large wad of cash with time.
Once you scan your first receipt, you'll get 3,000 points which you can claim for a $3.00 Visa Gift Card.
Click here to sign up for free!
18. Swagbucks Live
With Swagbucks Live you can test your trivia knowledge to win huge cash prizes.
Swagbucks LIVE is the live trivia game show where you test your knowledge daily to win huge cash prizes.
It's trivia with multiple-choice answers. Simple enough, right? Whether or not you get all ten questions right and split the grand prize, the best part is knowing you will not have played in vain.
There are always bonus Swagbucks to be earned just for sneering a question correctly even if you miss some along the way and ultimately don't win a piece of the grand prize.
It's free. Download the app to play and win!
19. Roofstock
Wouldn't it be great if you could become a landlord of single-family rental properties without dealing with all the hassle of buying, improving, and re-selling real estate?
You don't have to be a millionaire to invest in these types of properties. You can now find your inner property owner with Roofstock.
As with any other rental property, investors earn returns from the rental cash flow and any appreciation in the property value when it's sold, and all without painting a wall or getting your hands dirty.
There is a reason why the number of investors on its platform increased 126% last year, the sector is booming with investors clamoring to get a return outside of stocks and bonds.
If you're interested, I recommend you sign up for more information from Roofstock by clicking here.
20. Rakuten
Rakuten Cash Back lets you earn cash back for items you're going to buy anyway. It mostly works for online shopping and allows you to earn money you can transfer directly to a linked PayPal account.
If you sign up they'll even give you a $10 welcome bonus.
21. eToro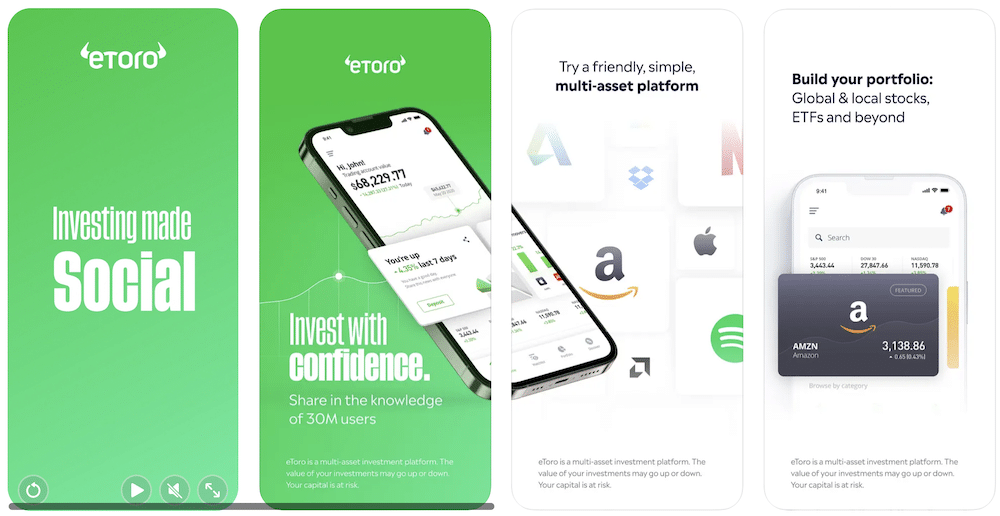 If you really want to make big money, then you should learn about options. You can use either Robinhood to trade options or my personal favorite is eToro.
eToro is a mobile application for trading options that spares you the mumbo jumbo, and lets you start making bets for or against top companies and ETFs (it's totally free – no FEES!).
Options trading is much better than buying stocks because you stand to gain so much more money. I follow WallStreetBets on Reddit and just today somebody made $25,000 on a Tesla options bet.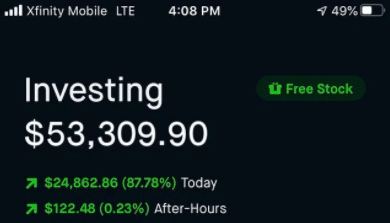 If you don't know about options but want to learn, eToro is a great way to do it. Even if you only have $10 to your name you can still earn over $100 with just one option trade.
Sign up for eToro and deposit $10.00 or more to get started so you can start scoring legit big amounts of cash.
22. Bingo Cash
Get ready to enjoy thrilling bingo games with real money rewards with Bingo Cash! To start playing in cash games, you'll need to make a small deposit of $5.
Once you're in, the competition is on, and the fastest and most strategic players will have the chance to win real money prizes.
While becoming an overnight millionaire might be a stretch, you can definitely make a significant amount by earning up to $83 per game or even more.
And that's not all; by joining cash tournaments after depositing money, you can boost your earnings with additional cash rewards. These tournaments also come with guaranteed prizes, providing a great chance to win big.
When it's time to cash out your winnings, the app has a convenient option to use PayPal, making it easy to access your hard-earned profits hassle-free.
23. Boodle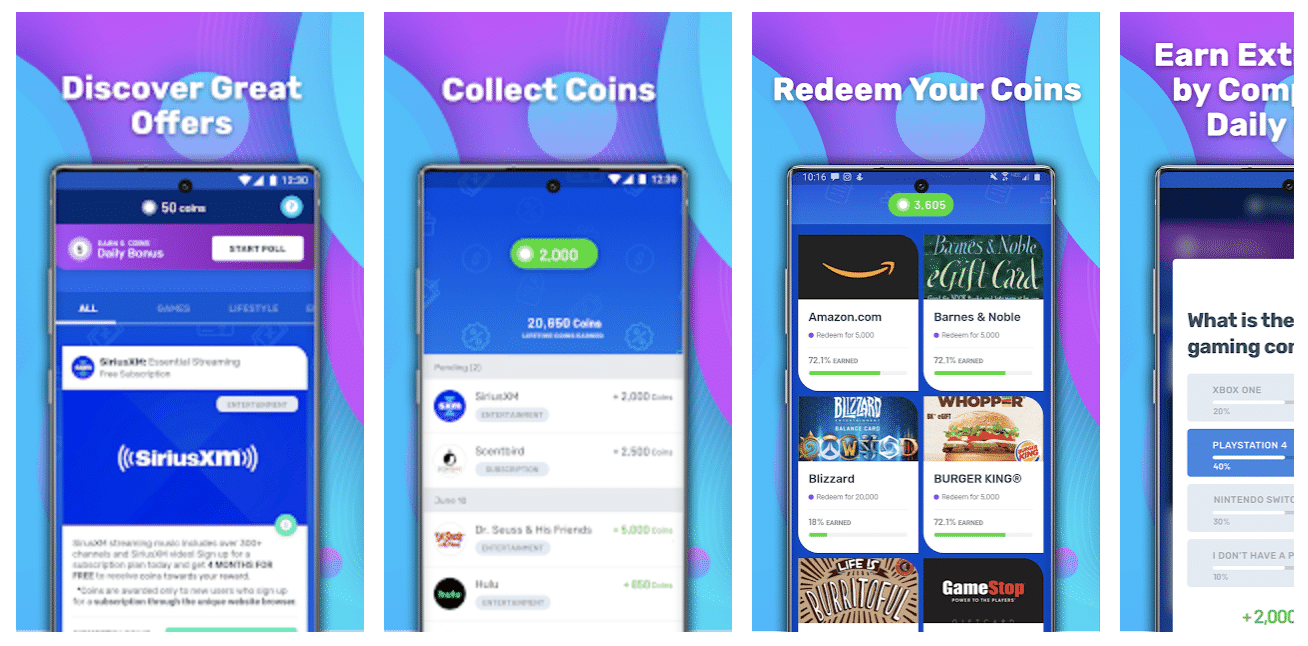 With the Boodle app, you can earn money for playing games, taking polls, and redeeming offers. This is a great Android app that pays you coins that you can claim for gift cards.
You can claim gift cards from Amazon, Nike, Visa, Burger King, Chipotle and many more! This is a legit way to earn rewards for not much work.
24. Ibotta
Ibotta is a mobile app — available for both iOS and Android — that helps you save money by scanning your grocery receipts. It also works with other apps and services on your device, such as Uber.
For example, every time you use Uber and order a ride, you can earn $1 back through Ibotta. You can then transfer the funds to your authorized PayPal account for personal use.
You won't make hundreds of dollars overnight, but you certainly can earn that much eventually, if you continue to use the app regularly. It's great for building up emergency funds!
25. Solitaire Cash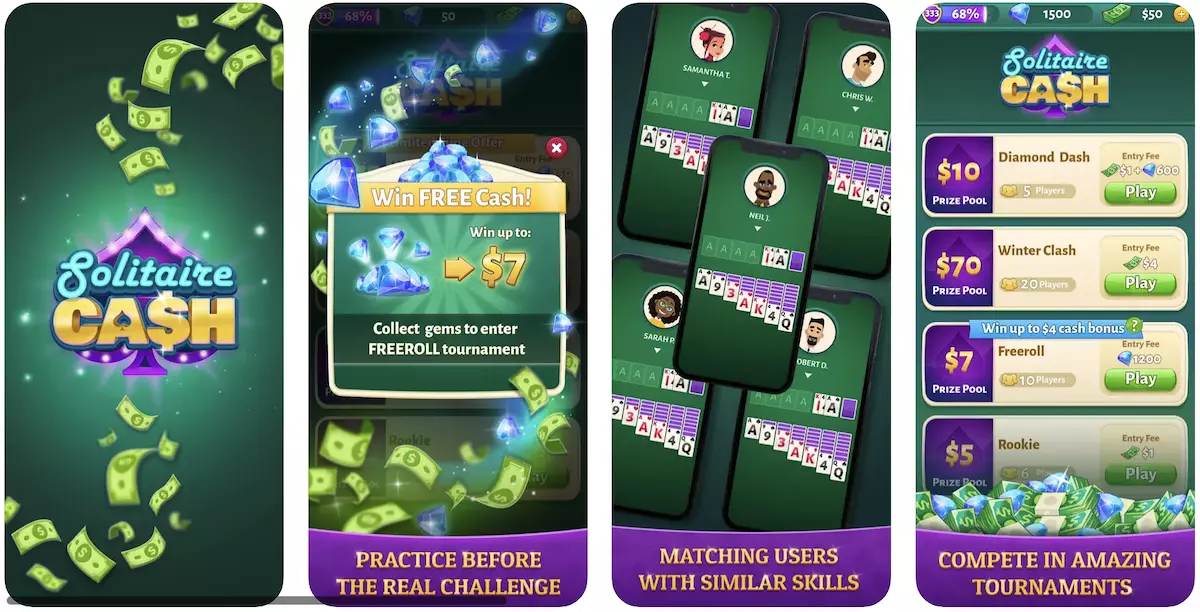 Want a high-earner game? Make up to $83/game playing solitaire with Solitaire Cash.
We all know that most individuals like to play games for money. But there are already several gaming titles that offer cash prizes that are surprisingly popular.
A free game (Solitaire Cash) allows you to play head-to-head skill-based Solitaire for real money. The winner can win up to $83 per win.
It's free to download, and they've given out a whopping $1.5+ million dollars in prizes so far.
Download it for free and see if you have what it takes to make real money.
26. Shopkick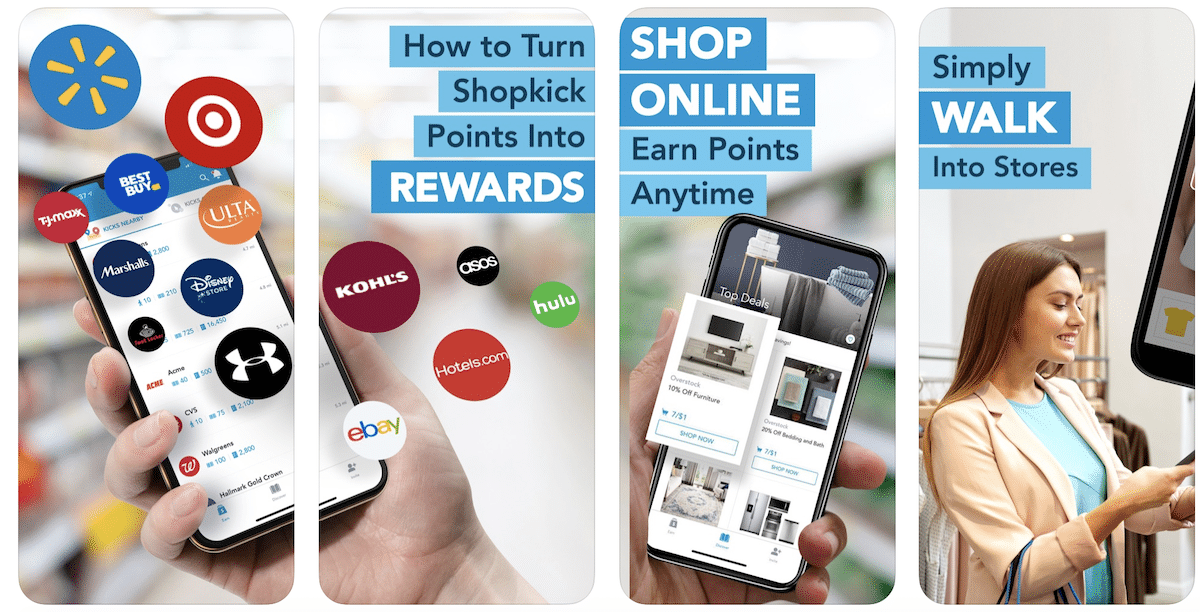 Shopkick lets you earn points for shopping, period. You can get points for just walking in the door of some stores, for completing various offers or buying popular products.
You can also earn rewards for referrals. If you want a free 250 kicks enter promo code: FREE765452
27. MyPoints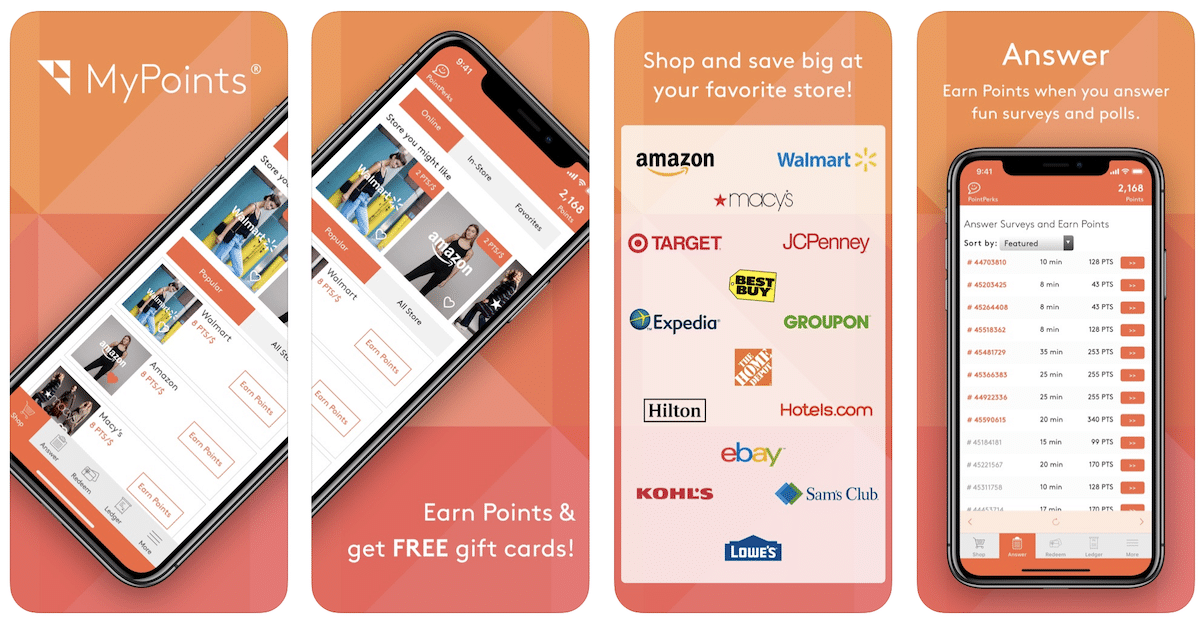 Have you heard of MyPoints? It's a side hustle application that pays you to shop online. I love it because it lets you earn cash for the shopping you would do anyway.
You can also earn money through multiple other methods. You can choose to watch some videos, play games, read emails, and fill out the online surveys in return for some points that you can later redeem for gift cards. It also offers points for shopping online.
MyPoints is affiliated with over 75 known merchants, and you can get a gift card of your choice.
And right now, you can earn a $10 Amazon gift card with your first purchase at any retailer through MyPoints.
28. Upside
Upside can save you up to 25 cents back on every gas station. It also shows you the best deals on gas and food and the cheapest gas in your area.
To score the best gas prices, grocery prices, and restaurant offers with GetUpside, all you need is your phone and your receipt. There's no limit on how much you can earn, and you can even use it with other coupons, discounts, and loyalty programs.
This free app is saving users an average of $124 in a year. Here's how it works:
Claim your offer for the best gas price, restaurant or grocery offer
Snap a photo of your receipt or receipts
Profit! Earn cash back, and cash out whenever you want via PayPal, gift card or check. A true money-making app, if you ever needed one.
29. Drop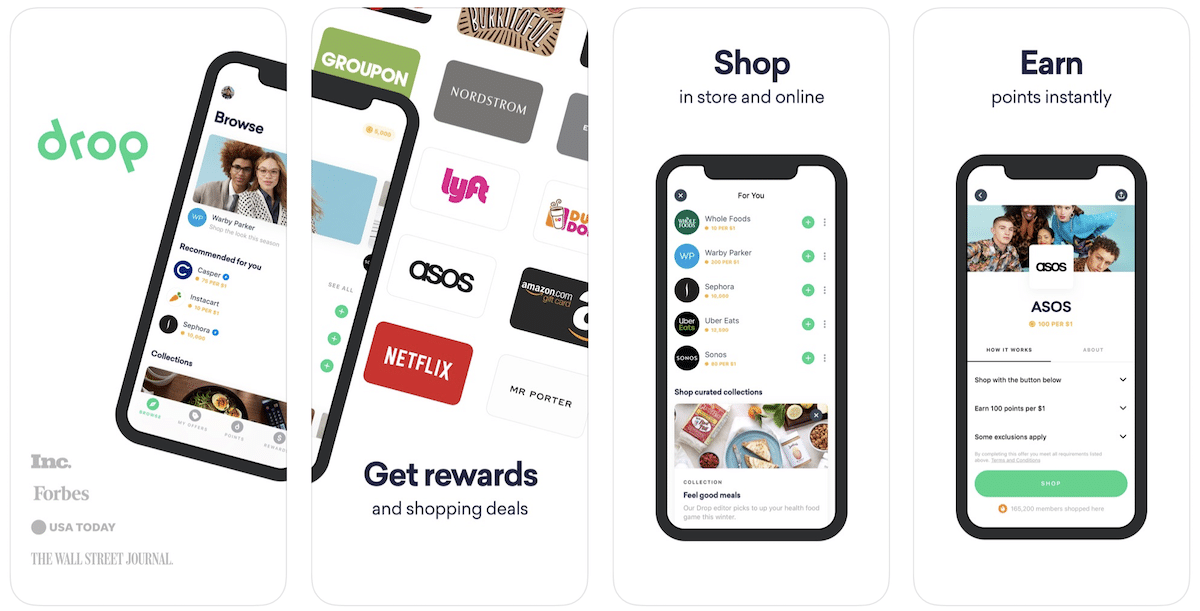 Have you heard of Drop? is an easy-to-use app that pays you to shop. You can earn gift cards on stuff you already buy from your favorite brands. I love it because it lets you earn cash for the shopping you would do anyway.
More people should be using this app. Simply link your credit card and whenever you purchase at your favorite activated brands, you'll automatically get points for free gift cards.
I recently redeemed $25 for Amazon after only 2 weeks of using the Drop App. They also give you 1000 points just to sign up.
30. HealthyWage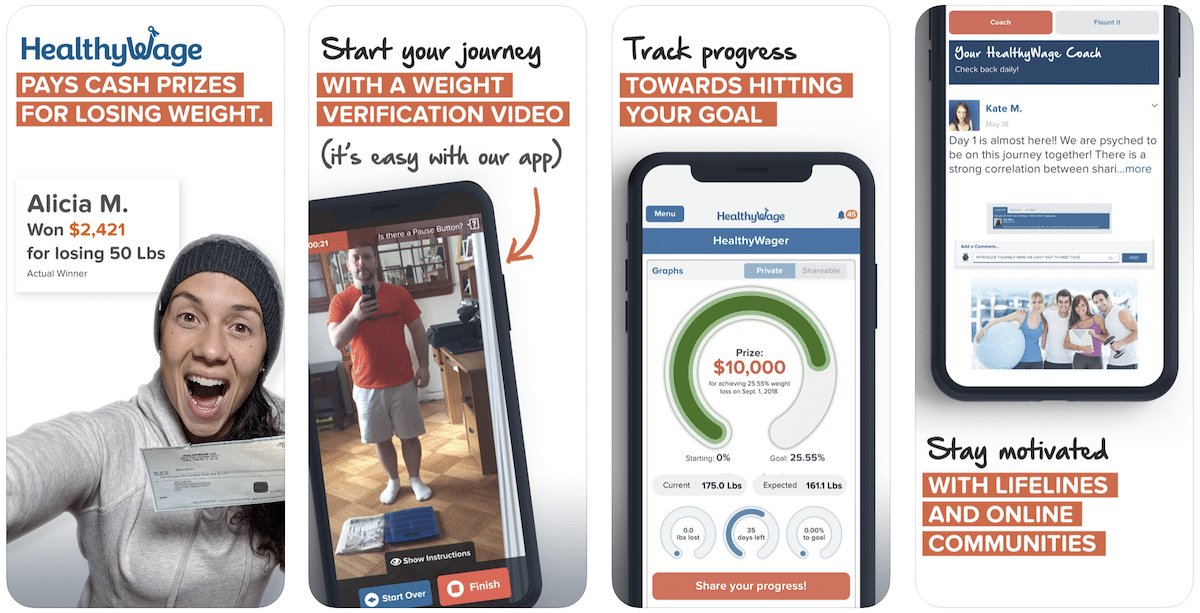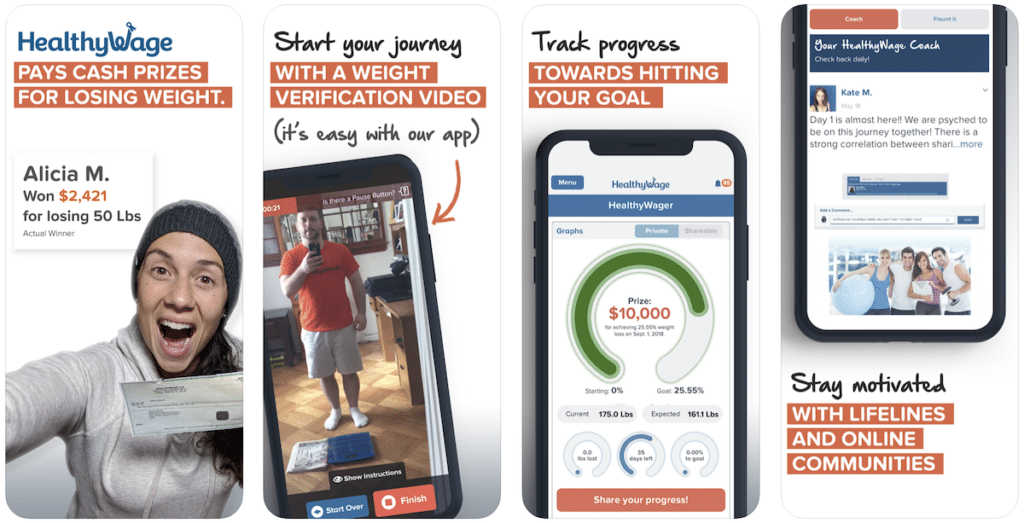 HealthyWage is an app that uses cash prizes (up to $10,000) to make weight loss and fitness more fun and effective.
There's a reason they have paid out millions to its participants last year – the challenges are fun, and effective, and people love to win money for losing weight!
How can you make money with it? You essentially bet on yourself and how much weight you can lose. Since they are promoting ways to be healthy, your winnings depend on how much weight you lose and how much you bet.
It's a great way to make money and be healthy at the same time. You can see how much you can make by using their profit calculator here.
31. Rover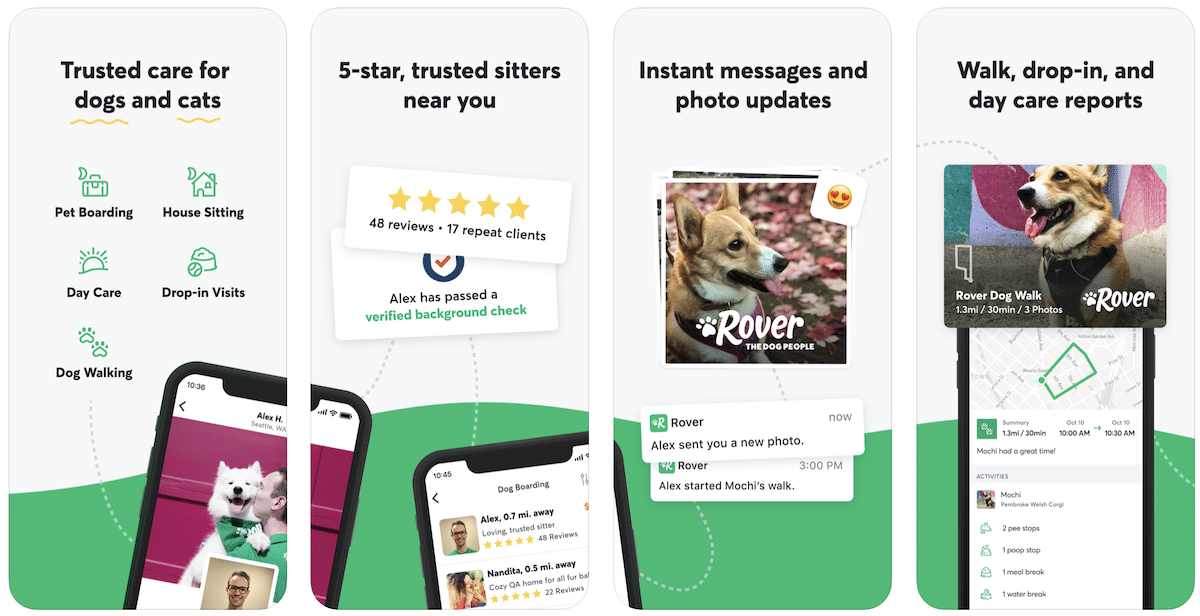 This one is for all the animal-lovers out there! Dog-walking has 3 lucrative benefits – You get to spend time with your four-legged friends and you yourself get some exercise. You can find dog-walking gigs on Rover.
They are one of the nation's largest networks of pet sitters and dog walkers. Users can easily search for the services they need, connect with a sitter or dog walker, and even book and pay securely without the need for cash, checks, or tips.
32. Getaround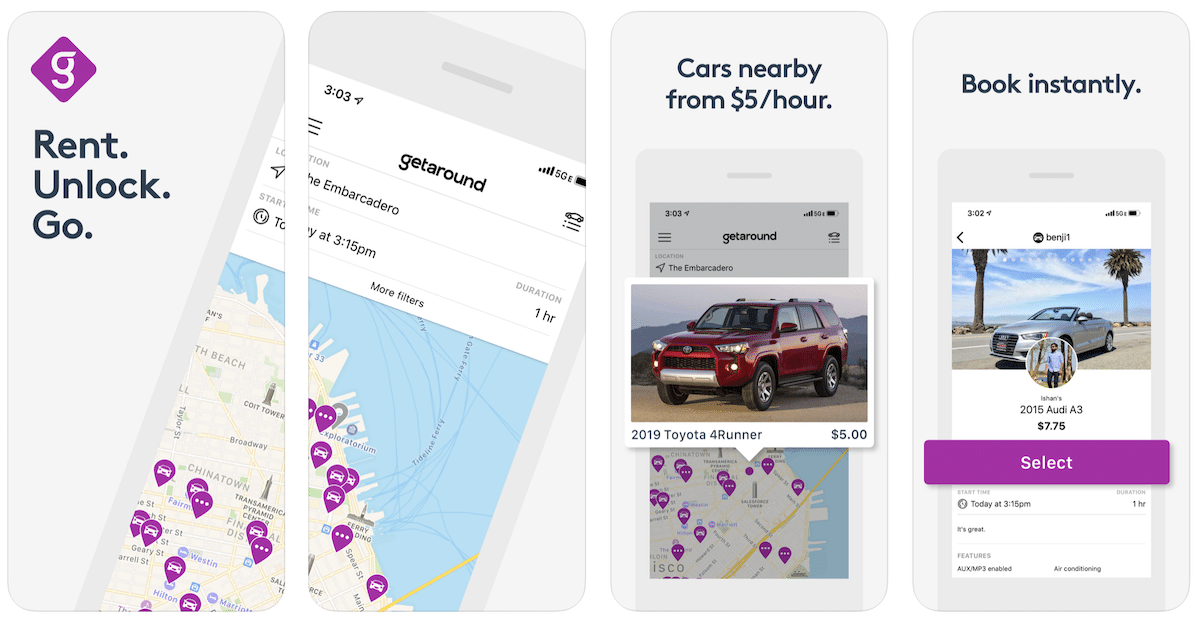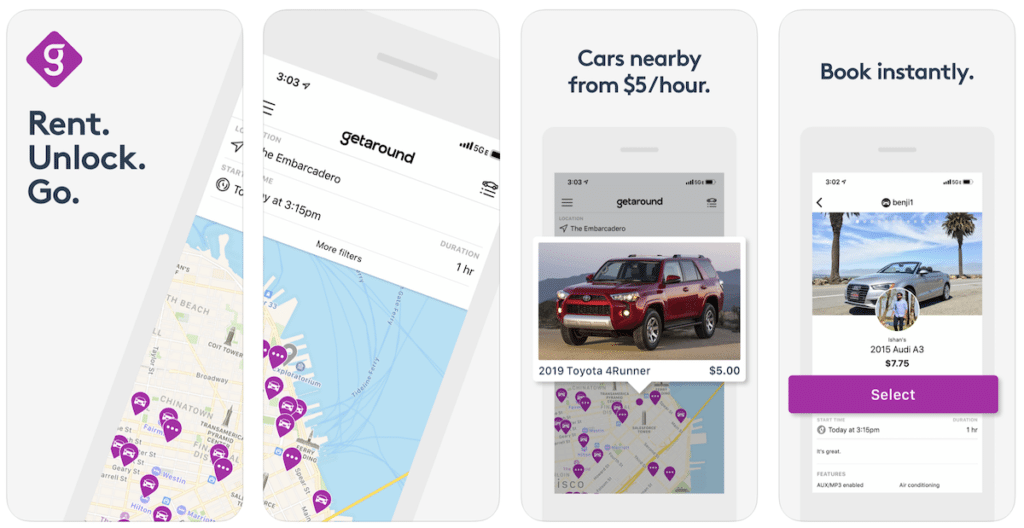 Let your car pay for itself! Getaround lets you turn your car into a second paycheck with no driving necessary. You're paid monthly.
Earn $10,000 per year actively sharing your parked car or earn $1,000 fast in just 4 weeks by renting your car.
It's great and you can set up your own schedule. Listing your car is free and managing rentals is easy. You can choose how and when to rent your car. Rentals are managed through the app and smart car technology.
Don't worry, every trip includes $1,000,000 insurance and 24/7 roadside assistance. Drivers are screened to ensure they have a safe driving record.
33. Dosh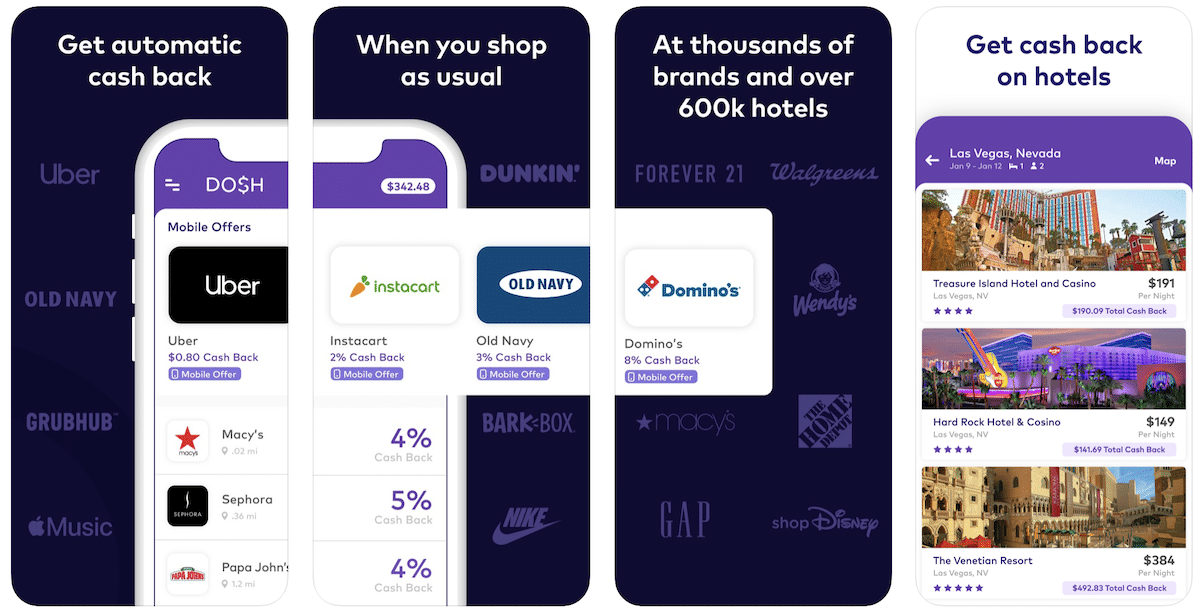 Shop with Dosh and get cash back for shopping on items you already buy. Get money for shopping, eating, and booking hotels.
You can literally get paid when you shop and dine at the places you visit every week including Wendy's, Uber, Sephora, Papa John's, Grubhub, Old Navy, Gap, Domino's, Forever 21, Apple Music, and more.
You can even get real cash back on your hotel booking (at over 600k hotels).
Simply download the Dosh app, securely connect your credit and debit cards, and live life as usual. Every time you use those cards, Dosh searches for available offers.
If it finds one, Dosh automatically redeems the offer and converts it into cold, hard cash, then deposits it directly into your Dosh Wallet. You don't have to do a thing.
Your Other Options
If you actually need money now, then you can opt for a personal loan. When you need money in a hurry ZippyLoan is where to go.
You apply for a loan through the Zippy Loan site, if approved they send your loan application to one of many loan providers.
You review the loan details and e-sign if you like what you see. No risk in checking what offers you'll get. You can borrow between $100 and $15,000 as soon as tomorrow.
Loans service up to 60 months.
ZippyLoan connects borrowers to lenders through their network of lenders. They'll find you the lowest interest rate and is one of the best no credit check loan. You can visit ZippyLoan here.
Why Should You Use Apps That Pay Real Money?
When you officially make that leap into adulthood, it comes with a long list of responsibilities — financial ones included. If you are looking for ways to make extra money through apps that pay you through PayPal then you'll love this list.
It's nice to have a little cash handy, right?
You could always pawn some of your stuff, true, but no one likes doing that. You could also ask your family for free money, but that's no good, either. And taking out a payroll advance or personal loan is an even worse strategy.
Why not try out one of these money-making apps instead? That's right: These are legitimate money-making apps that can net you some extra funds for whatever, whenever you want.
Enjoy Your Earned Paypal Through Apps That Pay
There you have it. If you've finished the list, you've just made some free money through these apps that pay you real money.
We wish you the best of luck on your money-making journey! Just remember, with most of these services, consistency is key, so be diligent about completing your daily check-in and continue to use the service if you want to earn more lucrative amounts of cash or gift cards.
It's always better to use these opportunities as additional cash for smaller purchases, rather than to rely on them for a steady income.
FAQs
1. How can I earn money playing games on mobile apps?
With the surge of mobile games on platforms like the Google Play Store and iOS App Store, some apps now allow users to win real cash prizes. For instance, gaming apps like Solitaire Cash, Solitaire Cube, and Blackout Bingo offer a fun way to play popular games while also competing against other players for cash competitions. Most of these game apps require you to pay an entry fee, but if you have a knack for these games, there's a potential to earn good money.
2. How do these money-making apps transfer my earnings?
Different apps have different methods of payout. Most apps pay directly to a linked bank account or through payment platforms like PayPal. Some apps may offer payment in the form of gift cards to major retailers like Amazon, Best Buy, and Walmart. A few apps also offer direct deposit, while others might provide a prepaid shipping label for certain tasks, like selling items. It's crucial to read reviews and understand the payout process of each app before you start investing your time and potentially, your money.
There are quite a few apps designed to help you earn cash rewards from online shopping and even in-store purchases. Ibotta is a popular app that gives you cashback for grocery purchases from partner brands when you upload a picture of your receipt. Rakuten, formerly known as Ebates, rewards you for shopping in-store and online at selected retailers. These apps track your shopping habits and give you a fraction of your spending back, either in the form of actual cash or redeemable points for gift cards.
4. Can I really earn money selling stuff through apps?
Absolutely! Platforms like the Amazon Seller app or eBay allow you to list items, from clothing to electronics, and make money selling them to potential buyers. Another app, Decluttr, specializes in buying used items directly from you. You just scan the book's barcode or enter details of other items, get an offer, and then ship the item with a free pre-paid shipping label. These platforms provide an excellent way to declutter and make a side hustle income.
5. Are there any apps that pay for market research or taking surveys?
Yes, market research apps are a straightforward way to earn money online. Apps like Nielsen Computer and Mobile Panel pay for unused net traffic from your smartphone. Survey sites such as Opinion Outpost, Swagbucks, and Toluna Influencers reward users for completing surveys and other tasks. These surveys pay users for their opinions and insights, which companies use to refine their products or services. However, while some surveys might offer higher payouts, it's essential to note that not all surveys will match your profile, so patience is key.
6. Are there any "too good to be true" money-making apps I should be wary of?
While many apps offer genuine opportunities to earn money, there are scams out there. It's essential to be cautious. Always read reviews from other users, check if the app has any known affiliations with major brands or retailers, and ensure their payment methods, like PayPal or direct bank transfers, are secure. If an app calls for upfront payments without a clear description of services or offers "too good to be true" payouts with minimal effort, it might be best to approach with caution.