Do you have old phones, consoles, tablets, & even games or DVDs? If they are just lying around, you can consider getting cash for them through the Decluttr app!
It's completely free, and it's easy to get started.
You get paid through the Decluttr app, and don't have to worry about meeting somebody to sell your items.
Decluttr specializes in buying used CDs, DVDs, Blu-rays and games to help you make room and money.
With Decluttr you can enter your items' barcodes into the site's valuation engine and get an instant offer.
Then Decluttr will give you a price for the item.
You pack the items you're selling into a box and ship it to them either by dropping them at a designated drop area or taking it to a UPS store. You receive your money the day after your items arrive. It's that easy.
Based on 4,049 reviews, this company has an excellent rating on TrustPilot and is an accredited business with the BBB. If you need some extra cash, why not look into selling your old tech?
Decluttr Review
Lots of households have too much stuff. The last time I checked, my house had WAY more than I was comfortable with.
You buy new books and movies and music, but they rarely get read or watched again.
What if you could make a little extra money while avoiding the hassle of accumulating too much useless clutter (or junk)?
If that style of decluttering appeals to you, this post may be helpful.
Decluttr, a website that offers to buy old DVDs and books in return for cash or store credit, is home to their slogan: "Make room. Make money."
In this article, we are going to review Decluttr and see if it's a good way to get rid of your unwanted items.

What is Decluttr?
Decluttr is a website and app that helps people sell their used CDs, DVDs (and Blu-rays), games, and books.
They also accept tech devices. They are based out of Kennesaw, Ga., just north of Atlanta, and have been around for at least four years.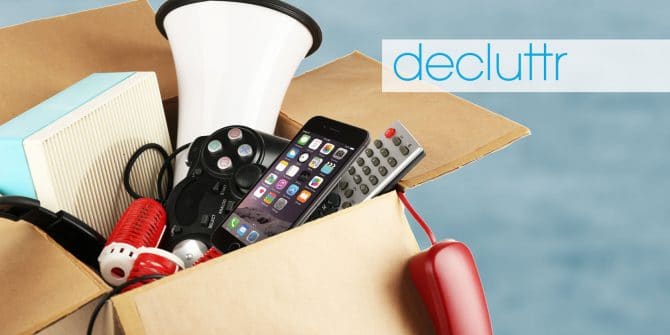 How Does it Work?
It's easier for me to guide you through this process by breaking it down into easy steps.
1. Decide What to Sell
Look through shelves containing DVDs, CDs, books and other items of interest to see if you've grown tired of them.
Video games, LEGO toys and tech items are just some of the categories that they also accept.
You can see what exactly they except by clicking here to see the list.
2. Scan the Barcodes
Once you've identified your items, enter the barcodes in Decluttr to find out how much they are worth.
If you own a smartphone, the process is even easier. Just download either the iPhone App (available on iTunes) or Android App from Google Play and scan the barcodes to quickly see how much you can get for it.
When you enter the information of an item into the Decluttr website or app, they will offer to buy your item after a quick scan.
When it comes to technology items, they offer what they call their Tech Price Promise and will guarantee the first price offered, or you can ask them to send that item back.
If they offer you a lower price for your old iPad and want to cancel the sale once they receive it, ask them to send it back at no charge.
While it does seem like a waste of time, sometimes the condition the thing you send into them, can affect their quote.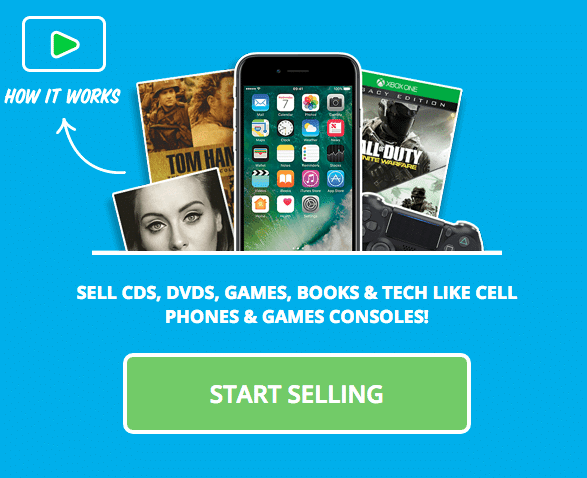 3. Pack Up Your Items
After you submit your details, the company mails a package to you that contains a shipping label, so you can ship your stuff free.
The prepaid shipping labels are for UPS, so be sure when dropping off the package to look for where UPS picks up packages.
They won't send you a box to ship it in, but if you use Amazon Prime, you'll likely have a few lying around.
Pro tip: You may want to wipe your personal data from your devices on your own before sending them in. Your data is too important to trust someone else with it.
4. Receive Your Payment
While they wait for your items, it won't be long until they get them, usually a few days after shipping.
Once they inspect your product, Decluttr promises payment the next day after making sure that it can be resold on their website.
This seems like a great way to make money so far, if it's things that you don't need and want to make space in your living space (Mari Kondo would be proud.)
5. Go Shopping!
Once your Decluttr inspection process has been completed, they pay you via one of three payment methods: direct deposit, PayPal, or check.
One of the things that's fun about Decluttr is using money from unwanted items in order to buy new ones.
But you could take the money you'd get back from your unwanted items and put it into a CD, stocks, or savings account where it generates interest and grows over time.
What Kind of Items Can You Sell?
Now, let's see what this site has to offer in terms of items you're able to sell.
Books
Most people don't realize how profitable selling used books can be. Even if you're not a collector, Decluttr will offer you competitive prices for the most popular novel series like Harry Potter or Girl With The Dragon Tattoo.
College textbooks are the most valuable books you can sell, so take time to review your textbooks as soon as you finish a class or if you have some lying around from old classes.
Music
Even though you might think there's not much of a demand for physical CDs anymore, the resale market is thriving.
If you have saved your music to your computer's library, why not declutter and use the space for something else?
Movies
With the rise of streaming services like Hulu, Netflix and Amazon Prime Video, many people are wondering what the point of DVDs and Blu-rays is.
Give the popular movies and TV shows you've already watched a second life by selling them on Decluttr.
Video Games
You might be a huge fan of video games, but you know not all games are worth playing over and over again.
Sell your used games to buy new ones that you haven't played yet.
LEGO
Time.com published a story not long ago about Legos being a better investment than gold, especially sets.
Decluttr offers to purchase old LEGO bricks by weight, so any obsolete or outgrown sets can be recycled and turned into cash.
Cell Phones
Decluttr accepts a variety of different phone types like Apple and Samsung products as well as HTCs, LGs, etc.
Old phones have practically no value on the market, and it is dangerous to leave these devices where their batteries can begin to moulder.
Other Old Tech
Decluttr welcomes donations of your used Apple products and old Kindles.
Video game consoles are also available to be sold on the platform from Sony, Microsoft and Nintendo.
They'll even take away (or buy) your smartwatch.
When and How Do You Get Paid?
Decluttr.com will provide payment for your purchases the day after their warehouse staff processes them.
The second step is important: Decluttr wants its employees to inspect the items you are returning and make sure they are in good shape and working. Afterall, they need to be able to sell them after buying it from you.
But Decluttr will buy damaged tech items from you, as long as you disclose the damage upfront, but you will likely get a lower price.
In order to get the best price, they've created a Tech Price Promise.
You can have your pay from Decluttr issued as a direct deposit, paid through Paypal or mailed to you in the form of a check.
If you want to donate part of your earnings to charity, they can do that for you as well.
Pros and Cons of "Decluttring"
Your dilemma: whether to sort through and send unwanted items on the Internet? Let's compare two main benefits to consider.
Pro:
You are likely to have more mental happiness when you get rid of unwanted items. Along with lowering the amount of dusting, it can make your house seem cleaner and more spacious!
You make money. If you're not using your resources or keeping them for sentimental reasons, this is the perfect opportunity to get some financial reward by giving it a second life with another person.
Con:
There are reports of irregularities in warehouse reception and the company has not had all stellar reviews with the Better Business Bureau.
Some people have reported they claimed to receive mixed-up items and said that Decluttr has damaged the goods more than what was reported.
However, they are eager to resolve disputes with their customer service department.
You might be lowballed. When selling your items on a resale site like Decluttr, consider that the resale market is not always fair for sellers and research other options to make sure you're getting a fair deal.
Other Sites Like Decluttr
When you are ready to sell your used items and make some extra money, there are many companies that offer similar programs. Whether you list your items on Decluttr or another platform, the process is generally the same: package up what you want to sell and mail it back in order to receive payment. Here are a few other options for selling your
Amazon Trade-In – On top of making it easy to buy and sell goods on their website, Amazon offers a way for customers to make a little money back with their purchase offers.
Bookscouter – One of the best options for selling books online is Bookscouter. Quotes and prices are aggregated across a number of sites, so it's easy to see all your choices at once.
Poshmark – The process for selling clothes via Poshmark is a little different — users take photos with their phone, list the item on the app, and then ship it to the buyer using a pre-paid shipping label. After Poshmark takes their cut of the profits, they send payment to you.
Decluttr FAQs
What Does Decluttr do with your stuff?
Once you successfully sell an item to Decluttr, they will inspect the items you are trying to sell for matched description and quality. If they pass inspection, you obtain a payment and the item is either sold again with the possibility of being recycled or refurbished.
Does Decluttr Wipe Your Data?
When you recycle or resell your old devices, they will be clear of sensitive data. Before using a third-party service to do this job for you, however, it is strongly recommended that you wipe your device first.
Does Decluttr Give Fair Prices?
around once you get your offer so that you are not settling for a price lower than another buyer may have given. Decluttr has a BBB rating so it's not considered a scam.
What Doesn't Decluttr Accept?
Decluttr is only accepting certain items such as CDs, DVDs, LEGOs, and books. Items like clothes are not accepted because they don't have any resale value online.
What Happens if Items Don't Pass Inspection?
Under certain circumstances, Decluttr will deny the purchase of a good due to damage. If this happens, the company reserves the right to cease payment and requests customers read guidelines carefully when submitting items.
Who Owns Decluttr?
Entertainment Magpie, Inc. is the trading name of Decluttr located at 4175 Royal Drive in Kennesaw, GA 30144.
Decluttr Review Summary
Decluttr is an easy way to liquidate your unwanted gadgets, media assets, used electronics and books.
Coordinating someone to take your items so that you can get rid of unwanted things is an excellent solution.
Decluttr is a useful service for helping you get the most out of unused items that have no value to you in your home anymore.
If you have these items lying around, consider using Decluttr or another provider to sell them and free up some space.
Decluttr is much safer than using a local exchange site like Craigslist or Nextdoor. These sites are typically not as reputable, and you will be dealing with a company instead of locals looking to purchase your items.
Plus, you don't have to worry about selling things locally and meeting up people face to face during the pandemic.
Just because you can sell your old furniture on Decluttr, does not necessarily mean that it will fetch the best price.
Make sure you do your research and comparison shopping to find out if their terms are better than other competing offers.
It's a good idea to make sure you're not packing away items that are both rare and special. You don't know how valuable some of your personal possessions may be until they go missing.
Cleaning out your closets to make a little extra cash on Decluttr? Hit me up afterward and tell me all about it! I hope you enjoyed my honest Decluttr review.
Do you like making money? Here are some other article suggestions on side hustle ideas and ways to make money: