The best budgeting apps can help you save money, alter your spending habits, create a debt payoff plan, and so much more.
Americans with a budget feel more confident, secure, and in control of their finances, according to data from the Certified Financial Planner Board of Standards.
One of the most important responsibilities that one needs to take over as an adult, for themselves and/or their family, is managing the financial aspects of the household.
Managing the finances of a household would include keeping a keen eye on the income and expenditures, maintaining a good savings rate, and preparing a nest egg that can be used for any unforeseen future expenditures.
Though an important task, it can be a very complicated one and many do not know the first step to managing their finances.
However, with the development of today's technology, free help is available on your smartphone.
There are many budgeting apps available on your phone which can help you manage your money for free.
The Best Budgeting Apps of 2024
Best overall: Quicken Simplifi and Acorns
Best budgeting app for hands-on users: YNAB
Best tool to evaluate investment accounts: Empower
Best apps for stopping spending: PocketGuard, Wally and GoodBudget
I downloaded dozens of the best budgeting apps and narrowed down the best out of the bunch.
My overall ranking system was predicated on how easy it was to help you do one thing and the number one rule in personal finance: spend less than you earn.
Here are a couple more rules to follow before choosing:
The budgeting app should be simple to use
No need to get fancy — you should be able to download and start using your budgeting app without any major complications. Creating a monthly budget should be easy but if you need a tutorial to get started — use another one.
It should be cheap or free
When you are looking to create a monthly budget — don't spend any money and start saving money. There are a lot of free budgeting apps out there that allow you to budget without cutting into your budget. Start with something simple and cheap and stick to it!
The best budgeting apps can help you easily monitor, save, and invest your money.
Best overall: Quicken Simplifi and Acorns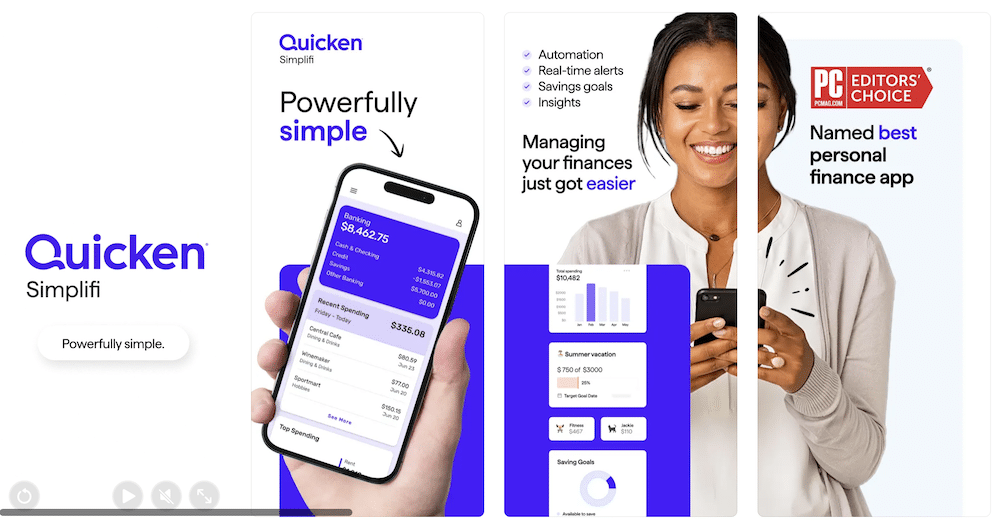 Quicken Simplifi is a budgeting app that helps you track your financial health. It can track bank accounts, investment accounts, credit cards, payment services, loans, and even 401(k) accounts.
Simplifi is a cloud-based app that works on the web and most mobile devices. It doesn't have ads, but users pay a monthly or annual fee.
Pros
The menus and tools are easy to navigate and understand.
Provides information on spending plans, upcoming bills, and goals.
Shows projected balances for the next few weeks based on income and bills.
Can generate detailed financial reports and investment tools.
Cons
No free option.
No credit score insights.
No tax planning abilities.
Issues with two-factor authentication.
Considering its user-friendly interface and robust financial tools, Simplifi stands out as the ideal choice for those seeking a comprehensive view of their finances along with insightful tips to maintain financial goals. It's particularly suited for individuals who value an ad-free experience and are willing to invest a modest fee for this convenience. It costs $5.99 per month, or $3.99 per month if billed annually.
Download: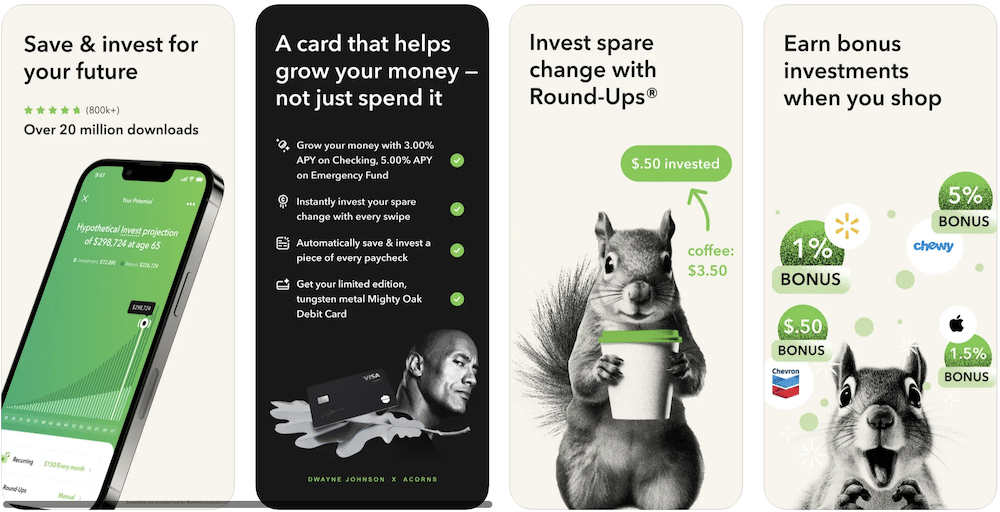 Acorns is a versatile financial tool that aids in crafting personal budgets, setting and tracking savings goals, and managing checking and savings accounts. It simplifies financial management by enabling automatic monthly transfers to your bank account, along with providing valuable budgeting strategies and tips for account management.
This app can also help you take the first step into investing your money. Acorns is also a robo-advisor that invests money into a diversified portfolio of ETFs. The app asks questions about goals and risk tolerance to choose ETFs. Acorns also rounds up spare change and other contributions to invest.
Pros
Automatic savings features.
Easy-to-use interface.
Robust security measures.
Retail banking feature.
Cons
Costs $3/month.
Other apps are more focused on budgeting features.
Acorns primarily serves as an investing app, designed for newcomers to the world of stock market investments. Alongside its core functionality as a robo-advisor platform and offering tax-advantaged IRAs, Acorns also includes a checking account equipped with budgeting features. This combination positions it as a well-rounded solution for those wanting a full-fledged financial app.
Download:
Best budgeting app for hands-on users: YNAB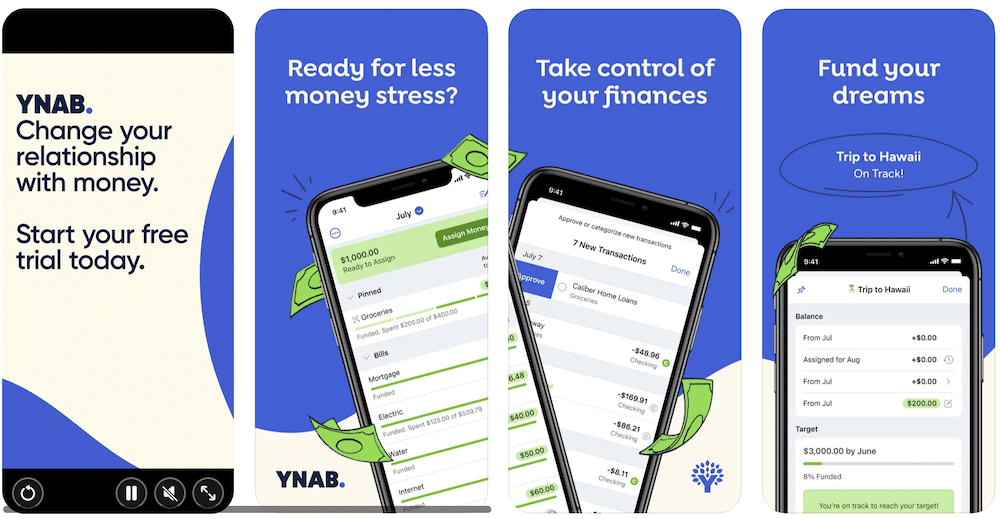 You Need a Budget (YNAB) is a budgeting app that helps people manage their finances. YNAB uses the zero-based budgeting system, which requires users to account for every dollar of their income. The app is designed for people who want to be hands-on with their budgeting and curb their spending.
Pros
Easy to customize.
Syncs with multiple devices.
Easy to track spending.
Customizable categories.
Helps set aside money for priorities.
Real-time updates.
Integrated loan planner.
Cons
No bill tracking or bill pay.
Lack of reporting.
Steep learning curve.
No free version.
Time-consuming.
YNAB has a few features that the other apps do not have, such as zero-based budgeting and goal tracking. Even if it's costly, YNAB can offer several benefits that justify its price of $14.99 per month or $99 per year.
Download:
Best tool to evaluate investment accounts: Personal Capital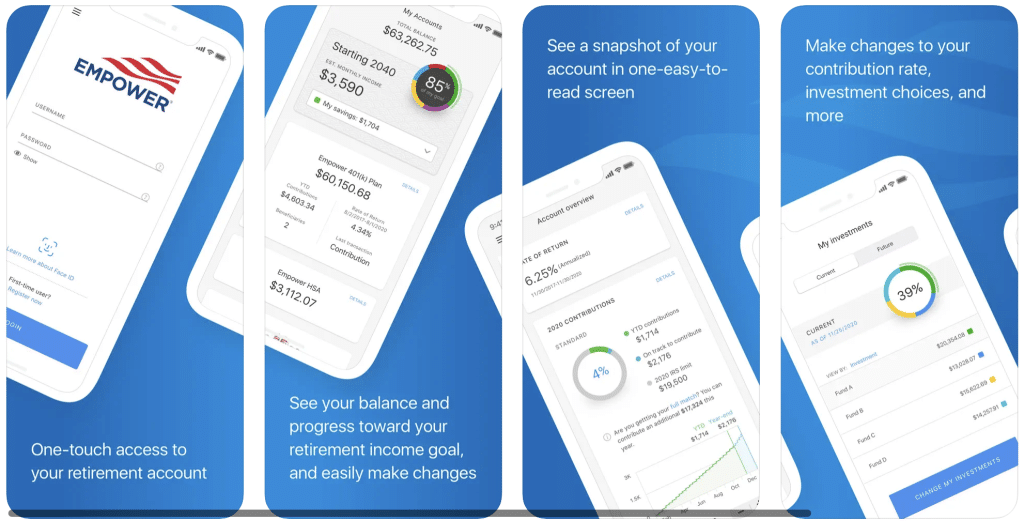 Empower helps you manage your money easily. You can use it to get smart advice on wealth and free online tools for finances.
Empower is a top-rated app for managing money on your phone. It helps you keep track of your budget and connects with your investment accounts, so you can see all your financial info in one place. It's user-friendly, looks great, and works on computers, phones, and tablets.
The app shows your investments in easy-to-understand graphs. These graphs are sorted by type of investment or account. You can even get advice from investment pros. The best part? It includes your investment accounts in your budget, giving you a complete view of your finances.
Pros
Tracks investments and spending.
Free investment management services.
Robo-advisory services for a fee.
Cons
Limited budgeting tools.
Not as user-friendly as some budgeting apps.
Download:
Best apps for stopping spending: Mvelopes and Wally and GoodBudget
Pocket Guard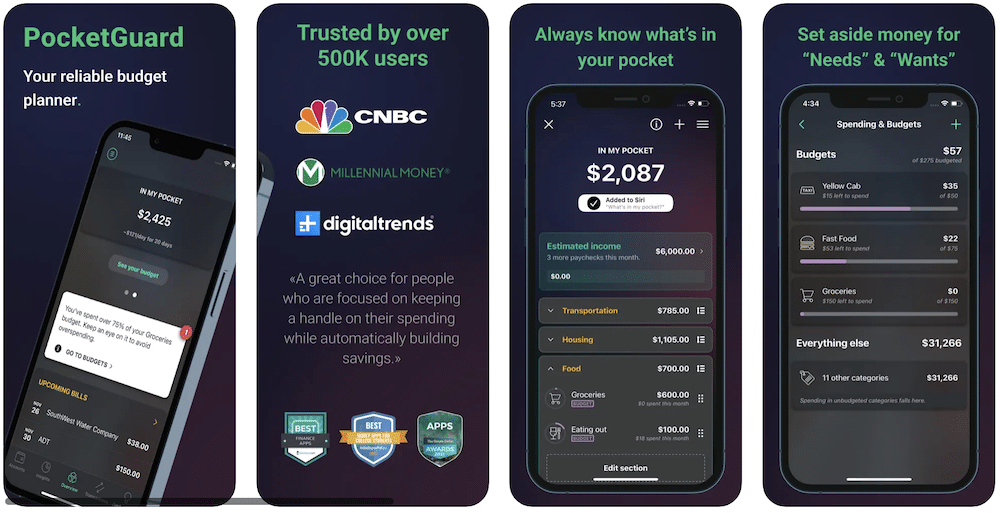 PocketGuard is a free budgeting app that helps users manage their finances. It syncs with bank and credit accounts to provide a holistic view of expenses and cash flow. PocketGuard can also automatically update income and transactions and you can create as many savings goals as you want. It offers three budgeting techniques: envelope, zero-based, and 50/30/20 budgeting. You can always see how much money is left after expenses and bills each month as well.
Pros:
Automated tracking and easy-to-use interface.
Customizable categories and savings goals.
Bill reminders.
Cons:
Limited free version
No manual categorization
Not as detailed as some other budgeting apps
Download:
Wally is an AI-powered budgeting tool and finance management app rolled into one. It offers a suite of detailed features tailored to your spending habits, using AI to enhance its insights. The app allows for easy account import from a broad range of banks and excels in both short-term and long-term financial planning, thanks to its intelligent algorithms.
Pros
Comprehensive tracking.
AI-powered.
Customizable categories.
Goal setting.
Cons
Add-ons can get pricey.
Limited budgeting tools.
Limited free version.
Download: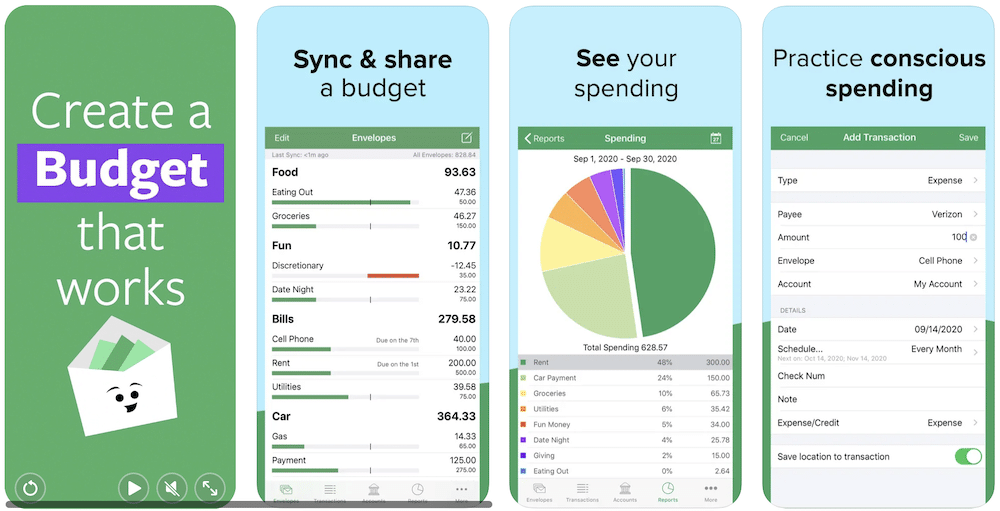 Personal and household budgeting system for the Web, Android and iPhone. Keep track of money to spend, save, and give toward what's important in life.
Good Budget, like Mvelopes, earlier discussed, is based on the old budgeting technique of using envelopes. In the beginning, the user is given ten envelopes, but one can boost this to unlimited envelopes after upgrading by paying $6 per month. Once one envelope is empty, you must stop spending, or move money from another envelope.
The application gives you the option to create a budgeting system for the whole home which is can be shared among the members.
Pros
Simple and easy to use
Free version available
Multiple device sync
Customizable categories
Cons
Manual transaction entry
Limited reporting and analysis
No automatic syncing with bank accounts
Download:
How to Budget on Low Income?
If you are looking to improve your budget (even if you're living paycheck to paycheck) then I can help you with some sound advice. In case you already know about the 50 20 30 budget rule, here are the easiest ways to budget for what life will inevitably throw your way.
College debt
Your education is the most important factor in your future success. Even so, college debt can be the biggest burden on a young adult. Be sure to be diligent in your studies and do not waste your opportunities in college. With all of the scholarship opportunities that are dependent on maintaining grades, you have to be certain that you are going to maintain your GPA to keep those scholarships. Also, be sure to choose a college that is within your budget so that you don't start your adult life in massive debt. If your grades prevent you from continuing your education, it may prevent you from completing it.
Reliable transportation
Do not buy an extravagant vehicle. Find a well maintained pre-owned vehicle and keep it well maintained. Be sure to weigh maintenance costs when purchasing an automobile. What may seem like a good deal may end up turning sour if you have to keep pouring money into a car just to keep it on the road. And weigh the cost of maintaining your current car with the cost of trading in for one that is more reliable. You may want that fancy car now, but a young person needs to focus on the future. Once that is secured, then you can consider a reliable and economic new automobile.
Buying a house
This will be the biggest financial decision of your life. Don't jump blindly into it. Research home values, the neighborhood, and your own preferences on features you want your home to have. This is a decision that can affect your life for decades. Be sure to weigh every single option. Do your homework on the property and make sure that there are no structural defects. Also, make sure you are not in a floodplain. Examine the trees around the property for signs of rot or disease.
Retirement funding
Be sure, above all else, that you pay yourself first. Be sure to take advantage of your retirement options. Contribute to your 401(k) early and often. You may have to sacrifice when you are young, but it will pay off greatly when you are in your 60s and beyond.
Credit cards
Choose your credit options responsibly. Avoid debt at all costs. Just because you have a card doesn't mean that you have to use it all of the time. The key is, never spend more than you bring home. And always, always, always pay off your balance every month.
Remember all of these things. Hard work will get you through tough times that are to come. Always keep your future in mind. Save when you can, and avoid going into debt at any cost.
Pros and Cons of Budgeting Apps
Pros:
Ease of Use: Many budgeting apps are user-friendly, with intuitive interfaces that make tracking expenses and incomes simple.
Real-time Monitoring: These apps often provide real-time updates on spending, helping users to stay on top of their finances.
Categorization: Automatic categorization of expenses allows for a clearer understanding of where money is going.
Financial Goals Setting: Users can set and track savings or debt-repayment goals.
Alerts and Reminders: Helps in preventing overspending and missing bill payments.
Integration: Many apps can sync with multiple bank accounts, credit cards, and other financial tools, providing a holistic view of one's finances.
Security: Most reputable budgeting apps have robust encryption methods, ensuring that users' data is kept safe.
Accessibility: As long as there's a smartphone or computer nearby, one can check their finances anywhere and anytime.
Educational Resources: Some apps provide insights, articles, or tips to help users make informed financial decisions.
Visual Representations: Graphs, pie charts, and other visuals can make understanding finances easier and more intuitive.
---
Cons:
Privacy Concerns: Linking bank accounts and other personal information to third-party apps can raise concerns about data privacy and potential breaches.
Accuracy Issues: Sometimes the apps may mis-categorize expenses, requiring manual corrections.
Subscription Fees: Some apps have monthly or yearly fees which can add up over time.
Over-reliance: Depending too much on an app might lead to neglecting the development of personal financial literacy and skills.
Not One-size-fits-all: What works for one person might not work for another. Some people might find certain apps too complex or too simplistic for their needs.
Limited to Digital Transactions: Cash transactions might need manual input, and it can be easy to forget to log them.
Connectivity Issues: If an app has server issues or if there's no internet connection, users may be temporarily locked out of their financial data.
Potential for Technical Glitches: No app is perfect. Users may encounter bugs or other technical issues.
Ads and Upsells: Free versions of some apps might include ads or prompts to upgrade to a premium version.
Outdated Information: If the app doesn't sync correctly, it might display outdated account balances or transactions.
---
When deciding to use a budgeting app, it's essential to consider these pros and cons. It might also be beneficial to read user reviews and perhaps test out a few different apps to find the one that best fits an individual's needs and preferences.
Alternatives to Budgeting Apps
Maintaining a budget is invariably beneficial, but a budgeting app isn't the only method. Explore these alternative solutions spanning both digital and traditional platforms that might be a better fit for you:
Pen and Paper: The classic method. Keep a physical ledger or notebook where you record all income and expenses. This manual method allows you to be actively involved in every financial transaction.
Spreadsheets: Platforms like Microsoft Excel or Google Sheets can be used to create customized budget templates. They offer flexibility in terms of structure and calculations.
Envelope System: Allocate cash for different expenses into separate envelopes. Once the cash in an envelope is gone, no more spending in that category until the next budget period.
Software Programs: Desktop-based software like Quicken or Microsoft Money offer comprehensive tools for tracking finances without needing to be online.
Physical Cash Jars: Similar to the envelope system but using jars or containers for different spending categories.
Bank or Credit Union Tools: Many financial institutions provide online tools and resources to help customers track their spending and set up budgets.
Financial Planners: Hiring a professional to assess your financial situation and guide you can be beneficial, especially for those who prefer personal interactions.
Regularly Reviewing Bank Statements: Make it a habit to frequently review your bank and credit card statements. Highlight or categorize transactions to understand where your money is going.
Use a Whiteboard or Corkboard: Put up a board in a visible location in your home and track your monthly expenses and savings visually.
While modern technology offers convenience, sometimes the best method for budgeting is one that you'll stick to and understand deeply. It might be a mix of a couple of these alternatives or one in its entirety. The key is consistency and periodic reviews to ensure you're on track with your financial goals.
Frequently Asked Questions
What Are Budgeting Apps?
Budgeting apps are software applications, typically available for smartphones and tablets, designed to help individuals track and manage their finances. They can monitor incomes, expenses, savings, and provide an overview of one's financial health.
What Is the Best Budgeting App?
The "best" budgeting app can vary based on individual needs and preferences. Popular choices include Mint, YNAB (You Need A Budget), and PocketGuard, among others. It's crucial to research and choose one that aligns with your financial goals and habits.
What Is the Best Free Budgeting App?
Mint is one of the most popular free budgeting apps, offering a range of features to track expenses, set budgets, and get financial insights. However, "best" can be subjective, and other free apps might better suit specific user needs.
Is There a Free Budgeting App?
Yes, there are several free budgeting apps available. Mint, EveryDollar (free version), and Goodbudget (free version) are some of the options. However, some apps might offer premium features at an additional cost.
What Features Should I Look For?
When evaluating a budgeting app, consider features such as:
Synchronization with multiple bank accounts and credit cards.
Real-time tracking of income and expenses.
Expense categorization.
Goal setting for savings or debt repayment.
Alerts and reminders for bills and over-budgeting.
Security and encryption.
User-friendly interface and customer support.
What Is the 50/20/30 Budget Rule?
The 50/20/30 rule is a simple budgeting guideline:
50% of your income should go to essential expenses like housing, utilities, and groceries.
20% should be allocated to savings and investments.
30% can be spent on lifestyle choices, like entertainment, dining out, and hobbies.
What's the Best Budget App Not Linked to a Bank Account?
For those who prefer not to link their bank accounts, apps like Goodbudget and YNAB allow for manual transaction entries. These apps don't require you to sync your bank account but may require more manual work to keep updated.